Moody's sees consumers on 'trade-in treadmill'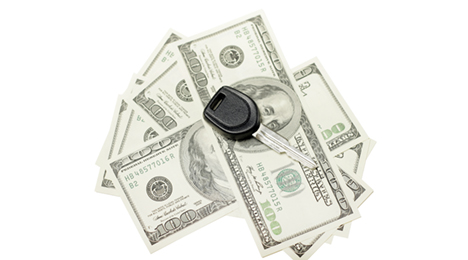 NEW YORK -
In a new report released on Monday, Moody's Investors Service explained what likely might be happening in the war rooms at auto finance companies nowadays.
Financing providers are increasingly faced with the choice of taking on greater risk by rolling negative equity at trade-in into the next vehicle loan. The credit rating agency believes finance companies are increasingly accepting this choice, resulting in mounting negative equity with successive new-car purchases and growing credit risk.
"Now that new-vehicle sales have plateaued, the competition for remaining loan supply will intensify, driving increased credit risk for auto lenders," according to Jason Grohotolski, a Moody's vice president and senior credit officer.
Moody's pointed out that the need for auto finance companies to be more accommodative to sustain or increase origination volumes is compounding credit risk on their balance sheets at a time when the average dollar amount of negative equity at trade-in is at record levels.
According to Edmunds data, an estimated 32 percent of all trade-ins toward the purchase of a new model through the first three quarters of 2016 were underwater. This is the highest rate on record, and it's up from 30 percent of all trade-ins toward new-vehicle purchases from January to September of last year. These "upside down" shoppers had an average of $4,832 of negative equity at the time of trade-in, also a record.
The phenomenon of upside down trade-ins is not limited to new-model purchases. According to Edmunds' Q3 Used Vehicle Market Report, a record 25 percent of all trade-ins toward a used-car purchase in the third quarter had negative equity. These shoppers had an average of $3,635 of negative equity at the time of trade-in, also a Q3 record in the used market.
"It's curious to see just how many of today's car shoppers are undeterred by how much they owe on their trade-ins," Edmunds senior analyst Ivan Drury said. "With today's strong economic conditions at their back, these shoppers are willing to absorb a significant financial hit to get into a newer vehicle."
Moody's also mentioned that finance companies also have accommodated borrowers by extending original loan terms, slowing principal amortization for the sector at large.
"As a result, auto lenders increase the collateral deficiencies in their portfolios, and thereby increase loan-loss severities, upping the pressure on their already thin profitability," Moody's said in the report, titled Auto Finance — United States: Credit Risk Increases for Lenders, with Negative Equity at an All-Time High.
The report goes on to note that an accommodative financing environment has allowed vehicle buyers to purchase a new model while simultaneously rolling negative equity from a prior loan balance into a new installment contract. Grohotolski explained this pattern is achieved with longer loan terms, higher loan to values and higher interest rates, which creates a "trade-in treadmill" where vehicle buyers are in a cycle of regularly renewing their loans at increased negative equity at trade-in.
Therefore, each successive vehicle installment contract is riskier, according to Grohotolski.
"Consumers will have to get off the treadmill, and the industries' response will help dictate how painful it is," Grohotolski said.