New CBA president & CEO to lead during 'historic transformation'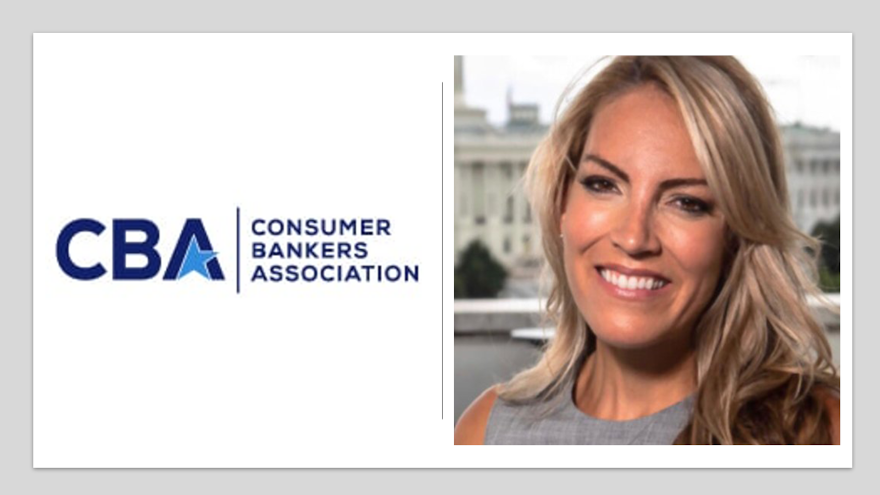 Last week marked the beginning of Lindsey Johnson starting her time as the new president and chief executive officer of the Consumer Bankers Association (CBA).
Michelle Lee of Wells Fargo is chair of the CBA board of directors and led the search committee to replace Richard Hunt, who led CBA since 2009 and announced late last year his plan to depart the organization this summer.
"This is an exciting day for CBA as Lindsey Johnson officially begins her new role as president and CEO. For more than a century, this organization has served as a valued resource and a fierce advocate for America's leading banks and the millions of consumers we serve," Lee said in a news release.
"With a depth of experience in financial services and proven record of delivering meaningful results for a wide array of stakeholders, Lindsey is just the leader we need to navigate the many new challenges and opportunities facing our industry today," Lee continued.
"On behalf of the entire CBA board, I am thrilled to welcome Lindsey to CBA, and I look forward to watching her guide this organization from a position of strength for years to come," Lee added.
Johnson arrived at CBA after serving as the president of U.S. Mortgage Insurers since 2015. She worked with member companies to advance the value of private mortgage insurance to borrowers and taxpayers and to promote a sustainable housing finance system backed by private capital.
Johnson previously served as a director at PwC. Prior to joining PwC, Johnson was a member of the Senate Banking Committee staff as the Republican Staff Director for the Senate Banking Committee's National Security and International Trade and Finance (NSITF) Subcommittee, and as a senior policy advisor to Sen. Mark Kirk (R-Illinois), focusing on noteworthy banking, housing finance reform, and insurance legislation.
Johnson also served as director for the Federal Home Loan Bank of Atlanta for seven years, representing the bank in Washington, D.C., at the highest levels of government during several key legislative reforms that impacted the bank including the Housing and Economic Recovery Act of 2008 and Dodd-Frank Act.
A native of Texas, Johnson began her career in Washington, D.C., working with former House Republican Conference Chair J.C. Watts in the private sector.
"I am honored to be joining an organization that has been the leading voice of America's retail banks for more than a century," Johnson said in a news release distributed in May when CBA announced its choice. "The banking industry is undergoing an historic transformation — from the rise in new technologies that have changed how consumers bank to increased regulatory pressures — and, at every turn, CBA has helped its members successfully anticipate and navigate a new, 21st century terrain. I am grateful to the CBA search committee and board of directors for entrusting me with the responsibility of leading this organization."
Johnson added, "I look forward to working with the exceptionally talented team at CBA, its members and sponsors, and policymakers throughout Washington, D.C., to ensure America's leading banks can continue serving their customers, supporting our communities, and driving economic growth and prosperity across the nation."
Soon after starting following the Fourth of July holiday, Johnson wrote her first letter to the CBA membership.
"I have long known CBA as the leading voice of America's retail banks in Washington, D.C., and I am delighted to lead such a remarkable organization. Together with the tremendous CBA team, we will work to ensure our members can continue to meet the financing needs of hardworking families and small business in every community your banks serve," she wrote.
Acknowledging the challenges and opportunities facing the industry, Johnson continued: "There still is significant work to be done to ensure policies affecting CBA's members are not driven by ideology or political agendas, but instead shaped by facts and reality and set only after significant dialogue and industry engagement. Fortunately, CBA has never shied away from these challenges."
Johnson then reiterated her appreciation to the CBA board, team and membership.
"Thank you to our board for entrusting me with this position at a pivotal moment for the industry. Thank you, as well, to Richard Hunt and the entire CBA team, whose input and guidance throughout this transition has been invaluable. Most importantly, I'm grateful for each of YOU, our members. Together, I know we can help drive the industry forward and take CBA to new heights."
CBA also mentioned Hunt will work closely with Johnson to ensure a seamless transition.
"I have known Lindsey Johnson for many years," Hunt said in the May news release. "Throughout her career, Lindsey has demonstrated her ability to lead teams, work with a broad range of stakeholders, and deliver policy outcomes, and she will be a fierce advocate for our membership and the industry. After 13 wonderful years serving as CBA's president and CEO, I am confident Lindsey is the right leader to take the reins of this truly incredible organization."
Lee added, "Over the last 13 years, Richard's leadership has been felt throughout Washington and across every community our members serve. As CBA begins an exciting new chapter, we thank Richard for his incredible service and unwavering devotion to the organization and to the industry."