SubPrime Auto Finance Executive of the Year: Ian Anderson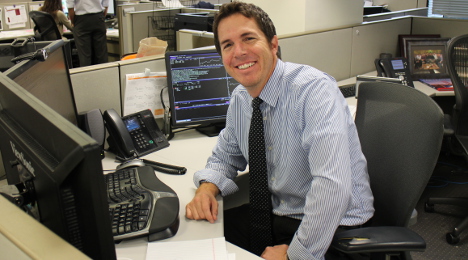 LAS VEGAS -
When the Great Recession began to grip the economy, Westlake Financial Services president Ian Anderson said the company installed a trio of values to help it navigate through a rougher period than many experts projected. Those values included people, purpose and passion.
Anderson's leadership guided by those values helped Westlake achieve record-shattering success. Sparked by the some of the best months in company history this summer, Westlake's portfolio reached $2 billion in total receivables connected to more than 270,000 customer accounts.
This latest milestone continues the growth the company has experienced through the latest recession. Westlake's portfolio reached $450 million in 2009 and then $1 billion two years later.
As a result of that performance, Anderson was chosen as this year's SubPrime Auto Finance Executive of the Year, an honor sponsored by Black Book Lender Solutions.
"It's pretty incredible. I never thought I would receive something like this," Anderson said. "From my time being a loan officer, to entering applications, to being a sales rep in the field to working in finance, I never thought I would be honored with such an award because it's something you never think would happen. The fact of even being nominated in some ways is amazing because for someone like me, I never thought I would be acknowledged in such a way.
"From my peers' perspective, it's so great to be recognized in this way and that they think of not only me, but also the company," he continued.
"It's a tribute that it's not my award. It's our people here who have enabled us to be able to do so well," Anderson went on to say. "This one is for the employees at Westlake because each of them work extremely hard every day. A lot of our employees are at the office at 6 a.m., and they'll be there until 5 or 6. This award is for them and the people of Westlake who have helped us get here."
Anderson explained how Westlake managed to flourish as subprime auto finance rebounded once the economy stabilized. He touched on the company's access to the liquidities and securitization markets, but Anderson went into much more detail about the workforce Westlake boasts.
"We tend to focus on people with strong technical abilities. We don't have a lot of management. We're very thin at the top. We're really focused on a person's technical abilities and strong education. With that in tandem with empowering everyone to make a decision, it gives people the ability to be a part of the strategic plan," Anderson said.
Those technical abilities range from managers who have hedge fund experience to advanced degrees in computer science. But it's not all just crunching numbers and generating loans at Westlake.
"We really try to have fun all of the time," Anderson said. "We've tried to make Westlake the best place to work in Los Angeles because that allows us to attract talent. Not only do we have auto finance experts, but we also have just really smart people."
And judging by what others say about Anderson, the Westlake president is pretty smart, too.
"Ian Anderson and his team at Westlake Financial Services have done a superb job of thriving during the rebound of subprime auto financing during the couple of years," said Bill Zadeits, publisher of SubPrime Auto Finance News and chairman of Used Car Week. "Ian's leadership is one of the reason's Westlake's portfolio is as large and as strong as it is today. Westlake's successes have been one of the great stories our publication has had the opportunity to highlight.
"It's a pleasure to have Ian be a part of the SubPrime Forum at Used Car Week and have him join Bill Jensen of Chase Auto Finance as another honoree," Zadeits continued. "Congratulations go out to Ian and the entire Westlake Financial Services organization."
Anderson will be on hand during the SubPrime Forum to accept the award from Jared Kalfus, vice president of data licensing for Black Book. The ceremony will take place of the first day of the SubPrime Forum, an event orchestrated in partnership with the National Automotive Finance Association.
"Black Book is proud to present the SubPrime Auto Finance Executive of the Year award to Ian Anderson, president of Westlake Financial," Kalfus said. "Ian has been at the helm of Westlake since 2005, increasing business five-fold during this time.
"Now boasting over $2 billion in total receivables, and more than 270,000 customer accounts, Westlake has grown to be one of the premier subprime finance companies in the industry," Kalfus continued. "As a long-time partner of Westlake Financial, Black Book has had the unique perspective of observing Ian's strong industry presence and use of innovation, both of which, make him a clear choice for this award."
When not guiding Westlake Financial Services, Anderson enjoys playing music, traveling, snowboarding and surfing. However, those leisure activities aren't enjoyed until Anderson exhausts plenty of effort at Westlake, an award-winning mantra he learned from his family and what he shares with young executives.
"Always beat your boss into work and stay 15 minutes later than your boss. Always be willing to lend a hand to others and listen to others. Be a sponge not a faucet, and show everyone respect," Anderson said about keys to his career success.
"Don't be scared to do something different, and don't be scared to do something you haven't done before, whether it's a new department or something else," he added. "And more than anything else, have fun."