Tommy Moore Jr.: Subprime Auto Finance Executive of the Year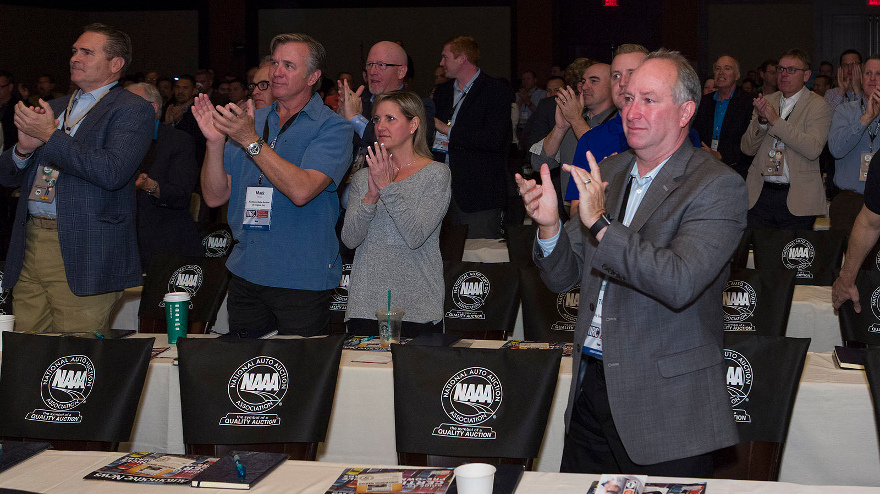 PALM SPRINGS, Calif. -
Tommy Moore Jr. initially thought what sprouted to be First Investors Financial Services would just be a sideline business in auto finance. He was concentrated on another banking career in Houston at the time, focused on retail and commercial lending.
Now nearly 30 years later, First Investors Financial Services is a well-established auto finance company specializing in non-prime originations and servicing; a company that Moore calls, "virtually my child."
Beaming as proudly as parents might about their children's successes, Moore praises the efforts of the entire staff at First Investors Financial Services. And now the industry is praising Moore, as well, as he was named this year's winner of the annual Subprime Auto Finance Executive of the Year Award, which is again sponsored by Black Book Lender Solutions.
"On behalf of everyone at Black Book, we wish to congratulate Tommy Moore Jr. on receiving the award of Subprime Auto Finance Executive of the Year from Cherokee Media Group," said Jared Kalfus, who is senior vice president of sales and marketing at Black Book Lender Solutions. Kalfus will hand Moore his award during Auto Fin Con at Used Car Week.
"Tommy's accomplishments in the industry are well-documented and also well-deserved," Kalfus continued. "The subprime auto industry continues to perform extremely well, especially given the long run of growth since the end of the recession, and Tommy's contributions over the years are certainly a leading reason why we continue to experience a robust industry, and also why his customers have such a high level of satisfaction year after year."
Moore formed First Investors Financial Services back in 1988 to serve the special finance needs of dealers and consumers. Since then, the company has taken on vehicle installment contracts delivered at its network of dealerships, offering a wide range of financing programs that generally target consumers with credit scores of 510 and greater, including a strong emphasis on consumers who have gone through a bankruptcy process.
First Investors Financial Services also has a direct financing platform, targeting customers with an array of campaigns. The company also has a portfolio acquisition division, gathering performing, non-performing and charged-off portfolios.
"It's a pretty simple answer for me. First of all, this industry is never boring," Moore said in reply to being asked about what elements of the auto financing business he finds most exciting.
"I've been doing this now for 30 years, and I don't think there's ever been a boring moment in those 30 years," he continued. "It's also been pretty exciting and incredible to see how this industry has evolved over the years. It's a pretty exciting industry.
"Back when I started this company, there wasn't much of an industry. I just thought it was going to be a sideline business. It's really been exciting to see how this industry has evolved to a mainstay, a normal part of the auto finance industry," Moore went on to say.
Moore reiterated many times how the success First Investors Financial Services has posted stems from its workforce. He highlighted that there are 26 members on the senior management team who on average have been with the company for 16 years.
"It's not much to do about me. It's all about the team," Moore said. "I've got an incredible team that we've put together that's been here for a long time. This is truly about the team. This is not about an individual. It's a team sport. It's about the members."
When he's not leading the team at First Investors Financial Services, Moore is heavily involved with some of his other passions. One is exercise.
Moore mentioned that he's completed 13 marathons and 25 triathlons. He runs almost daily anywhere from three to five miles, saying, "I run for my head more than my body."
When not lacing up those running shoes, Moore and his family will climb aboard their boat for a journey in the Gulf of Mexico, which he described as "nourishment for my soul."
Furthermore, Moore is greatly involved with Houston-area Goodwill, a non-profit organization strives to enhance the dignity and quality of life of individuals and families by helping people reach their full potential through education, skills training and the power of work.
"It's like my second job," Moore said of his Goodwill activities. "I'm very committed to Goodwill and helping people with a helping hand. It's not just giving a handout. It's life-changing through the power of work. I spend a tremendous amount of my time with that organization."
Moore will have to have a hand out at least for a few moments when he is given the Subprime Auto Finance Executive of the Year Award during Used Car Week, which starts on Nov. 13 in Palm Springs, Calif. Moore joins past recipients, who include Bill Jensen of Chase Auto Finance, Ian Anderson of Westlake Financial Services, Dan Ulatowski of Credit Acceptance and Ozzie Ramos of National Auto Lenders.
"I'm pretty humbled by it," Moore said. "I'll be somewhat embarrassed when it's announced publicly. But that's who I am. I like to fly under the radar screen."
While Moore thinks he might not be detected much, First Investors Financial Services certainly is part of the auto finance and dealership worlds.
"I'm incredibly proud of the company," he said. "I can say I've not worked much my entire life because if you find something you love to do, you never work another day in your life. I love the industry, and I love this company. I'm incredibly proud. It's virtually my child."