TransUnion: As originations soften, focus turns to vintage performance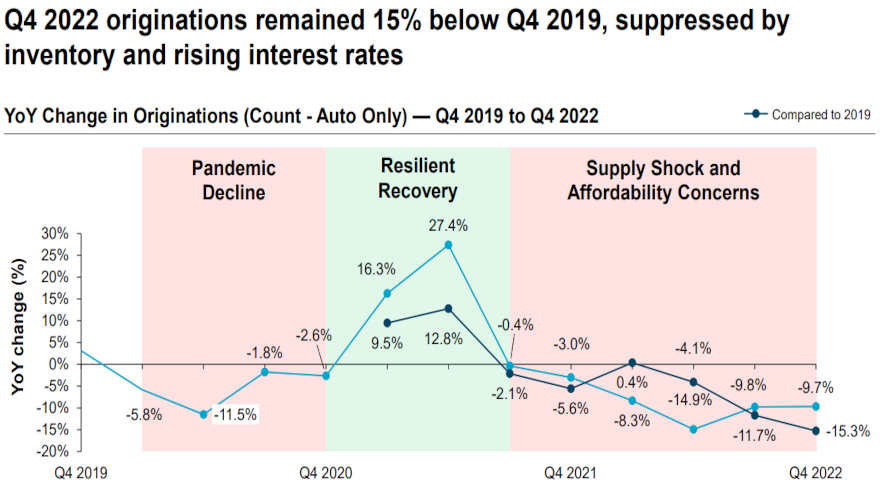 It's been about a decade since TransUnion saw auto finance origination volume at this low of a level.
The automotive portion of the Q1 2023 Quarterly Credit Industry Insights Report (CIIR) from TransUnion showed that Q4 2022 originations — viewed one quarter in arrears to account for reporting lag — softened by 9.7% year-over-year to 5.9 million.
TransUnion said this figure represents the lowest level since Q4 2013.
According to the report, originations were down across all risk tiers, with all tiers seeing decreases of between 10% and 13% year-over-year. Analysts said the only exception was super prime, which is down only 1%.
When compared to pre-pandemic Q4 2019, TransUnion said originations dropped across all risk tiers, with subprime (down 17.8%) and super prime (down 15.9%) leading the way.
However, analysts noted the new versus used split remains steady, with used vehicles making up 60% of all car purchases in Q1 2023. But TransUnion pointed out that leasing continues to lag, only accounting for 18% of new vehicle registrations, which is down from 20%.
TransUnion mentioned the average amount financed for new vehicles rose 3.4% year-over-year, while the average amount financed for used vehicles dipped 2.6% year-over-year.
Analysts added that monthly payments increased for both new models (up 11.9%) and used vehicles (up 3.9%).
Furthermore, TransUnion said the account-level 60-day delinquency rate rose to 1.69%, up from 1.43%.
Satyan Merchant, senior vice president and automotive business leader at TransUnion, highlighted that vintage performance — which reflects the performance of an account in different periods of time after the contract was booked — continues to show relatively strong results, with new vintages remaining at pandemic-era lows and performing better than pre-pandemic.
"Driven by lower inventories and higher interest rates, originations remain down from the same quarter one year ago. However, as production begins to catch up to demand, there is hope that this trend will reverse course soon, at least among new cars," Merchant said in a news release.
"The used market is expected to remain tight, as the lower level of new car sales starting in 2020 means fewer recent model-year used cards available. Affordability remains a central issue for consumers, especially those below prime. We continue to pay close attention to delinquencies but continue to see positive signs among vintage data," he continued.
Q1 2023 Auto Loan Trends
| | | | | |
| --- | --- | --- | --- | --- |
| Auto Lending Metric | Q1 2023 | Q1 2022 | Q1 2021 | Q1 2020 |
| Total Auto Loan Accounts | 81,098,527 | 81,520,660 | 83,268,376 | 83,755,038 |
| Account-Level Delinquency Rate (60+ DPD) | 1.69% | 1.43% | 1.33% | 1.18% |
| Prior Quarter Originations* | 5,870,012 | 6,497,371 | 6,699,850 | 6,881,794 |
| Average Monthly Payment NEW** | $736 | $655 | $585 | $575 |
| Average Monthly Payment USED** | $523 | $508 | $413 | $395 |
| Average Amount Financed on New Auto Loans** | $41,503 | $40,196 | $36,214 | $34,731 |
| Average Amount Financed on Used Auto Loans** | $26,560 | $27,761 | $22,118 | $20,439 |
*Note: Originations are viewed one quarter in arrears to account for reporting lag.
**Data from S&P Global MobilityAutoCreditInsight, Q1 2023 data only for months of January & February.
Source: TransUnion
Unsecured personal loan balances once again reach record
Looking at another segment of financial services, TransUnion offered its assessment of personal loans, where interest rates continued to climb and delinquencies remained elevated.
As a result, analysts said lenders continued to tighten their lending criteria and focus more on lower-risk consumers, resulting in year-over-year declines of 9% in Q4 originations and decelerating year-over-year increases in total unsecured personal loan balances.
TransUnion acknowledged that it is important to note that originations a year ago stood at record highs. While growth has slowed, analysts explained Q4 2022 originations were still strong, on par with Q4 2019 levels, which were a record high pre-COVID.
TransUnion also tabulated that unsecured personal loan balances rose 26.3%, but it was the second consecutive quarter of lower year-over-year growth rates. Analysts explained the year-over-year decline in originations was largely driven by the prime and below-risk tiers, all of which demonstrated negative year-over-year growth.
In fact, analysts noted that subprime borrowers experienced the most significant decline, sliding by 18.2% year-over-year.
TransUnion noticed that balances grew year-over-year across all risk tiers, with each risk tier seeing double-digit balance growth as the market continued to expand following record growth starting in mid-2021 through 2022.
Analysts indicated subprime generated the highest growth in balances at 40%, while prime plus saw the slowest growth in balances at just below 20%.
The average balance per consumer in Q1 2023 rose to its highest level on record, up to $11,281, according to TransUnion, which also mentioned the average size of new accounts increased by nearly 11% year-over-year to $7,368.
On the collections front, TransUnion said borrower-level 60-day delinquencies increased in Q1 2023 to 3.91%, a 20.5% increase over the prior year. However, the reading represented a 5.4% decrease from the prior quarter.
"Following growing delinquencies in 2022, lenders continued to adjust their underwriting practices, and balance growth in Q1 2023 slowed as a result of lower originations in Q4 2022," said Liz Pagel, senior vice president of consumer lending at TransUnion. "Delinquencies actually fell in Q1 2023 from the prior quarter, indicating that these adjustments have had an impact.
"As investors will continue to express a preference for lower risk, shorter duration loans, unsecured personal loans will be appealing assets, but the shift towards lower risk consumers will be apparent. In response to limited funding, expect lenders to focus on retaining existing borrowers to keep their cost of acquisition low and to limit risk by increasingly working with known borrowers with a good track record," Pagel went on to say.
Q1 2023 Unsecured Personal Loan Trends
| | | | | |
| --- | --- | --- | --- | --- |
| Personal Loan Metric | Q1 2023 | Q1 2022 | Q1 2021 | Q1 2020 |
| Total Balances | $225 billion | $178 billion | $144 billion | $159 billion |
| Number of Unsecured Personal Loans | 26.9 million | 23.9 million | 20.8 million | 23.5 million |
| Number of Consumers with Unsecured Personal Loans | 22.4 million | 20.4 million | 19.0 million | 20.9 million |
| Borrower-Level Delinquency Rate (60+ DPD) | 3.91% | 3.25% | 2.68% | 3.41% |
| Average Debt Per Borrower | $11,281 | $9,896 | $8,817 | $8,820 |
| Prior Quarter Originations* | 5.2 million | 5.7 million | 4.2 million | 5.2 million |
*Note: Originations are viewed one quarter in arrears to account for reporting lag. Source: TransUnion