TransUnion spots 2 possible upbeat trends from Q2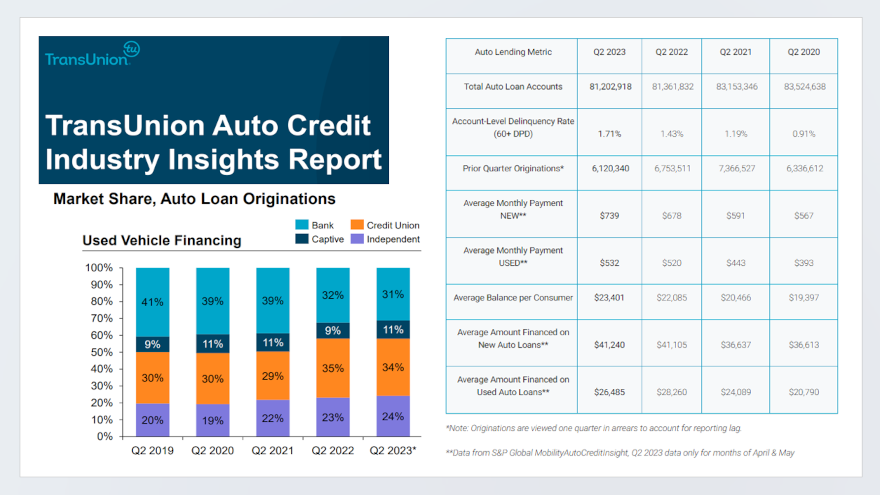 Perhaps two trends from the auto segment of the Q2 2023 Quarterly Credit Industry Insights Report (CIIR) from TransUnion might calm finance companies on the risk front.
TransUnion reported the average amounts financed for new vehicles have stabilized year-over-year, while the averages at origination for used financing have declined of 6.3% year-over-year.
Furthermore, TransUnion indicated contracts 60 days or more past due remained mostly unchanged at 1.71% in Q2 2023, up from 1.69% in Q1 2023.
"Vintages continue to show performance similar to 2021 cohorts. Early 2022 cohorts looked materially worse, but an early look at the performance of Q3 2022 and Q4 2022 originations shows improvement," TransUnion said in a news release highlighting the report's availability.
Elsewhere, TransUnion reported originations in Q1 2023 softened 9.4% year-over-year to 6.1 million, while at the same time experiencing a slight seasonal uptick up from 5.9 million in the previous quarter.
Analysts reiterated that originations are viewed one quarter in arrears to account for reporting lag.
TransUnion continued that originations softened year-over-year across most risk tiers, with only super prime showing a gain at 2.1%.
When compared to 2019 levels, analysts said originations remain down across all risk tiers by 9%, with subprime sustaining the largest drop at 21.3%, followed by near prime at 12.3%.
As new-vehicle inventories have rebounded, TransUnion explained the new versus used split has started to revert back to pre-pandemic norms, with new models making up 42% of all vehicles financed in Q2 2023, up from 39% both year-over-year and quarter-over-year.
One other note, as analysts mentioned monthly payments are up year-over-year for both used vehicles (2.4%) and new vehicles (9.1%). However, analysts said increases have mostly stalled over the past two quarters.
"Inventories are on the rebound from pandemic-era lows, which will likely put pressure on both new and used car prices and lead to the return of more new vehicle incentives," said Satyan Merchant, senior vice president and automotive business leader at TransUnion. "This is important as affordability continues to remain a central issue for consumers, particularly in below-prime risk tiers.
"As used-vehicle values continue to drop from peaks, the focus remains on those recent originations from the past couple of years that originated at peak prices and higher loan-to-value ratios," Merchant continued.
"Originations prior to 2021 are likely in positive equity positions as vehicle values are still elevated, and those loans have had sufficient time to see pay down in their principal balances," he went on to say.
A closer look at Gen Z
TransUnion opened its report by looking at the youngest consumers who have access to credit.
At the mid-point of 2023, TransUnion said Gen Z consumers (born between 1995 and 2005) increasingly find themselves with new access to credit products.
Relative to the whole consumer population, analysts indicated Gen Z consumers continue to turn to bankcards and unsecured personal loans even as lenders have begun to tighten underwriting.
TransUnion's most recent Consumer Pulse findings from July found that 50% of Gen Z consumers — compared to 32% for the entire population — are planning to apply for new credit or refinance existing credit such auto financing, student loan, credit card, personal loan, or a mortgage within the next year.
TransUnion pointed out this percentage is a notable increase from the 41% of Gen Z consumers who said they planned to apply for credit or refinance in last July's report.
"It makes sense to see Gen Z consumers' use of credit cards and personal loans increase relative to consumers as a whole as they age into financial independence," said Michele Raneri, vice president of U.S. research and consulting at TransUnion.
"Like the overall population, many Gen Z borrowers are facing the same financial challenges brought on by high interest rates and inflation. As a result, they are tapping into these available credit products to help them cope with rising expenses and the tightening of their monthly budgets," Raneri added.
TransUnion hosted a free webinar to discuss the report in more detail.