2014 Women in Remarketing Honorees Announced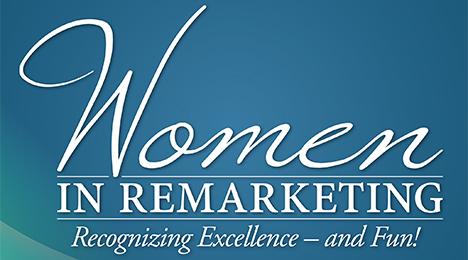 CARY, N.C. -
Leadership, determination, inspiration, creativity. What do all these traits have in common? They have all been demonstrated by each member of the 2014 Women in Remarketing class.
In what we're proud to call an annual tradition, Auto Remarketing dedicates a special section of our print publication each year to recognize the leading women of the remarketing and used-car business.
The 2014 Women in Remarketing program — sponsored by Ally Auto Remarketing — honors a class taking on a wide array of leadership opportunities.
From Dominion Dealer Solutions, to ADESA, CarMax and more, the 16 members of this year's class come from every corner of the remarketing industry and have demonstrated excellence throughout their career.
But the members of this year's class are more than just great businesswomen. They tell a story beyond the business world, too, of giving back to their communities, mentoring those new to the industry, dedication to innovation and more.
This year's honorees are as follows, in alphabetical order:
Ann Cammarata, Client Relations Director, DataScan Field Services LLC
Angie Chattin, Senior Vice President, CarMax, and President, CarMax Auto Finance
Cindy Cockerham, Regional Manager – East, Copart Inc.
Tammie Gray, Operations and Compliance Manager, Ally Financial
Mary Haller, Chief Operating Officer, Auction Broadcasting Co. LLC
Catherine Iger, Senior Director of Product Management, AutoTrader.com
Sherry Keltner, Manager of Online Sales and Marketing, Mercedes-Benz Financial Services USA
Joy Wilder Lybeer, Senior Vice President, Financial Services Group, Equifax
Charlotte Pyle, Co-Owner, Mountain State Auto Auction, Capital City Auto Auction, Pyle Equipment Auctions, and Joe. R Pyle Complete Auction & Realty Service
Nancy Rabenold, Chief Executive Officer and Co-Founder, Xcira Corp.
Jennifer Ryan, Director of Inventory Solutions, Dominion Dealer Solutions
Diane Scharafin, Senior Manager of Strategic Partnerships, Carfax
Carol Sewell, Vice President of Marketing, ADESA
Mary Lou Sutton, Vice President, Manheim Credit & Collections
Sheila Tedesco, Remarketing Manager, Lobel Financial
Bridget Townsend, Vice President of Inventory Solutions, Dealertrack Technologies
Many of these women take an active role in mentoring those new to the industry, as well.
When AutoTrader's Iger was asked what advice she would give women entering the industry, she said, "Earlier in my career, I was looking for role models and in that process, I realized that I needed to be a role model myself. I think we all do. So the best tip I can give is to remember that someone is likely looking up to you and you don't even know it, so be someone they should want to emulate."
Another key to success? Fulfilling a need, says Rabenold, who has played a part in securing a variety of patents for Xcira Corp. over the past 18 years.
"Fulfill a need in an exemplary fashion. From experience I can tell you that the automotive industry is special — gender is meaningless — success is achieved by consistently delivering genuine value," Rabenold says.
The remarketing industry is forever evolving and opening up to more and more people, and leaps and bounds have been made in the past decade.
Scharafin says, "Now is a great time for women to enter the remarketing industry. Business is growing, and there are so many new and interesting opportunities. The working environment has really grown and matured since I entered the automotive world. There are certainly a lot more women working in the remarketing industry which makes our community stronger."
We would like to wish a congratulations to these outstanding women. We would also like to thank all our readers who sent in nominations. While there are many more leading ladies worthy of recognition, we could not spotlight all the nominees, as we are only able to recognize a select few each year.
But stay tuned to Auto Remarketing e-newsletters, as we will conduct another call for nominations for this honor early next year.
For more on these leaders of the used-car business, see the print and digital versions of the April 15-30 issue of Auto Remarketing.
The 2014 Women in Remarketing class will be honored during the National Remarketing Conference, scheduled for Nov. 12-14.
NRC is part of the Used Car Week conferences, which will be held Nov. 10-14 at the Red Rock Casino, Resort, and Spa in Las Vegas.