3 Features of New NARS Website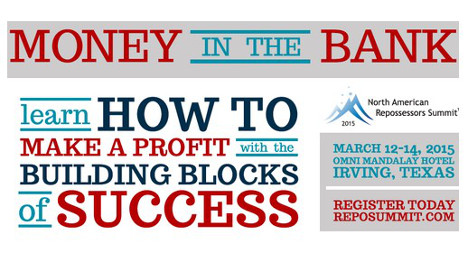 IRVING, Texas -
The North American Repossessors Summit (NARS), an industry event hosted by the American Recovery Association (ARA), unveiled its recently redesigned website.
The site, which is now live, features new registration and exhibitor forms and other improvements to streamline user convenience during the summit's registration process, as well as enhances the user's overall experience with learning more about the event.
With a sleek new design, the NARS website at reposummit.com now features
— Improved registration pages for recovery agents, exhibitors and finance companies
— Detailed information including the keynote speaker, emcee, 2015 theme, and golf tournament
— Real-time summit updates to prepare visitors, sponsors and exhibitors as the event nears.
Accompanying the new website launch is the official NARS Facebook page, facebook.com/northamericanrepossessorssummit, where attendees can find additional NARS information for their convenience.
"The new website and Facebook page couldn't have come at a better time," American Recovery Association president Jerry Wilson said.
"With dynamic speakers like Rorke Denver, Greg Crabtree and Mac Fulfer on board and early bird registration available, we want to provide attendees with as much information as possible," Wilson continued.
Now through Dec. 31, interested recovery agents, finance companies and other members within the recovery and remarketing industry can take advantage of NARS' early bird registration price of $295.
From Jan. 1 through Feb. 28, the regular registration price of $325 will be available. After this period, a late registration price of $350 will be offered until March 12.
Organizers highlighted NARS's 2015 theme, "Money In The Bank: How to Make a Profit by Using the Building Blocks of Success," will provide attendees with valuable lessons on how to improve each aspect of their business in a profitable manner.
Navy SEAL Commander, author and movie star, Rorke Denver; financial expert and author, Greg Crabtree and expert face analyst and author, Mac Fulfer, will be speaking on leadership and business lessons at the three-day summit.
In addition to Denver, Crabtree and Fulfer, there will be a variety of other speakers covering strategy, sales and marketing, finance, people and compliance.