3 key features of subscription-based WarrantyBoost+ from FrogData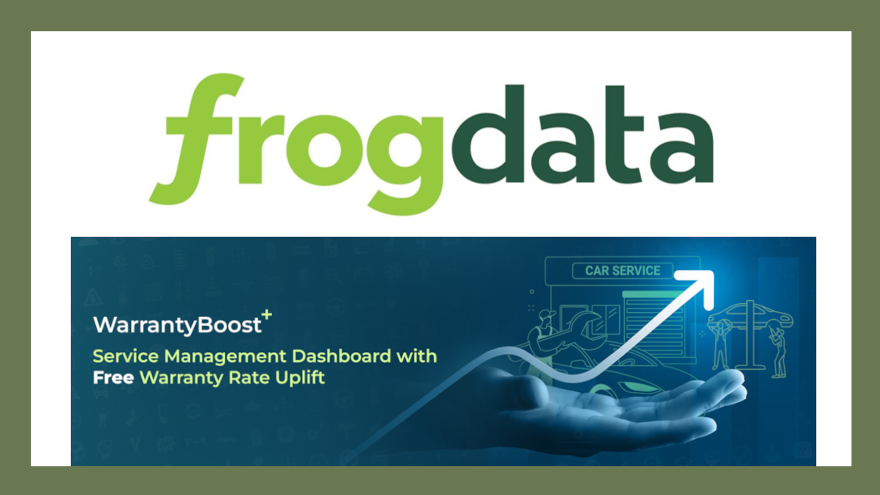 FrogData expanded its platform for automotive fueled by launching WarrantyBoost+, what the company called a "groundbreaking" annual-subscription product that can combine warranty rate enhancement with an intuitive service dashboard and key performance indicator (KPI) tracking.
By leveraging its AI-driven warranty analytics platform, FrogData said dealers can expect faster and more accurate results, ensuring optimal rate increases and improved profitability.
With the subscription, FrogData said dealers will receive their annual warranty submission free of charge.
Key features of WarrantyBoost+ include:
—AI-driven warranty analytics: FrogData's analytics platform can analyze repair order (RO) data to determine the best rate increase for dealers. By monitoring ongoing customer pay rates, the platform can estimate the earliest possible time to file for a new increase, improving turnaround time from contract to submission and eliminating potential delays.
—Service Dashboard: As part of the subscription, dealers gain access to a comprehensive Service Dashboard. This dashboard provides service managers with detailed information and KPIs to drive operational efficiencies, reduce costs, and enhance revenues.
—FTC privacy compliance: FrogData can ensure compliance with the Federal Trade Commission's Privacy Act. Through a secure connection to the dealer's dealer management system (DMS), RO data is seamlessly pulled for analysis, safeguarding customer privacy.
"Our goal with WarrantyBoost+ is to equip dealers with a powerful toolset that enhances their service operations and maximizes their potential for profitability," FrogData CEO Tej Soni said. "Our advanced AI Analytics Platform, coupled with the Service Dashboard and KPI tracking, enables dealers to monitor performance, reduce costs and optimize revenues.
"Frog Data takes data privacy and security seriously," Soni added. "We prioritize maintaining the highest level of privacy compliance to instill confidence in our customers and protect their valuable data."
For more information about WarrantyBoost+, go to www.frogdata.com.