5 components of AutoNation's aggressive used expansion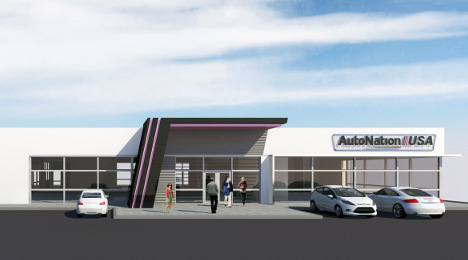 FORT LAUDERDALE, Fla. -
AutoNation not only is strengthening its new used-vehicle retail strategy, but the dealer group also is broadening its footprint in the wholesale space, too.
On Friday, AutoNation announced the next phase of what the company classified as its comprehensive brand extension rollout, which includes what's being called AutoNation USA — standalone pre-owned vehicle sales and service centers. Those locations also will offer AutoNation branded parts and accessories.
And along with an expansion of AutoNation branded standalone collision centers, the company also is adding more AutoNation Auto Auction locations.
The company insisted this branding effort has been successfully extended to AutoNation Express and AutoNation Customer Financial Service products, and now the company is well positioned to further leverage its retail and wholesale brands.
"We are pleased to announce the next phase of our comprehensive brand extension strategy, which will provide long-term growth opportunities for the company," AutoNation chairman, chief executive officer and president Mike Jackson said in a news release.
"We expect that our investments in this next phase of the company's brand extension rollout, which may exceed $500 million in the aggregate, will continue for the next several years," Jackson continued.
"We have built an industry-leading brand, and we remain committed to achieving and sustaining operational excellence, while creating a peerless customer experience and enhanced services throughout the automotive retail sector," he went on to say.
AutoNation broke down plans for the various components of this used-vehicle initiative.
1. One Price
The company highlighted that One Price, an AutoNation brand element, was launched in several markets in the third quarter and is a foundational attribute of AutoNation USA.
AutoNation explained One Price allows the company to leverage centralized capabilities, such as centralized pricing and appraisals, and offers consumers a "transparent and stress-free buying experience."
AutoNation plans to fully implement One Price in all existing locations by the end of the second quarter of 2017.
2. AutoNation USA
The company reiterated that AutoNation USA stores are standalone pre-owned vehicle sales and service centers. A key driver of AutoNation USA is AutoNation Express, the company's digital platform, which can allow customers to dramatically reduce their transaction time by offering a seamless end-to-end experience.
Through AutoNation Express, a customer can search inventory online, select and reserve a vehicle, value their trade, see payment options and apply for financing.
Beyond the vehicle-buying experience, the company mentioned AutoNation USA sales and service centers will offer express service and scheduled maintenance and repair work.
"AutoNation USA stores will offer a customer-friendly end-to-end digital experience for service, including communications and payment options," officials said. "The company believes AutoNation USA sales and service centers will improve retention with customers who have vehicles that are out of warranty and traditionally service with independent repair shops.
AutoNation added that the company has identified 25 AutoNation USA potential sites in its existing markets, of which five are expected to open in 2017.
3. AutoNation Auto Auctions
AutoNation owns and operates a successful wholesale auto auction in southern California, which processes more than 25,000 vehicles annually. With an opportunity to leverage its expertise and expand in an attractive growth market, the company plans to open four additional AutoNation branded auto auctions over the next two years, starting in Orlando, Fla., and Houston during the first half of 2017.
Executives noted that these new auctions will be centrally located in select, high-volume markets and will primarily feature AutoNation vehicle inventory.
"The AutoNation Auto Auctions will provide buyers and sellers with a great opportunity to dispose of and acquire highly desirable used vehicles as well as provide an array of other on-site support services," officials said.
4. AutoNation Precision Parts and AutoNation Auto Gear
The company emphasized AutoNation Precision Parts is a high quality, competitively priced line of maintenance and repair parts.
The new product line will be integrated into the company's reconditioning operations, as well as enable improved customer retention for retail service, wholesale parts and collision repair business units, including AutoNation USA.
AutoNation Precision Parts was launched in the third quarter of this year in the company's existing stores, with the introduction of AutoNation-branded batteries that feature an industry-leading free lifetime replacement guarantee.
AutoNation Auto Gear, the company's branded automotive accessory line, will offer auto accessories for lifestyle, appearance, protection, and vehicle security. AutoNation Auto Gear was also launched in the third quarter in the company's existing stores and will be available at each AutoNation USA store.
The company will be expanding both AutoNation Precision Parts and AutoNation Auto Gear product lines in phases as their product portfolios are developed.
5. AutoNation Collision Centers
AutoNation currently owns and operates 70 collision and repair centers across the country, and is expanding its collision center footprint to reach more customers and leverage relationships with insurance carriers.
"AutoNation has the largest collision center network among automotive retailers, with expertise and certifications with multiple manufacturers, and is the preferred repair provider for many of the major insurance carriers," officials said.
New locations are planned for key markets where AutoNation has store density, but does not have an existing collision presence or capacity limitations. The company recently opened a new collision center in Sarasota, Fla., and on Friday announced the acquisition of Westmont Body Werks in Westmont, Ill., a suburb of Chicago.
During the next two years, the company said it plans to open or acquire at least 18 new AutoNation branded collision centers across the country.