ActivEngage enhances messaging service with MyDrive Experience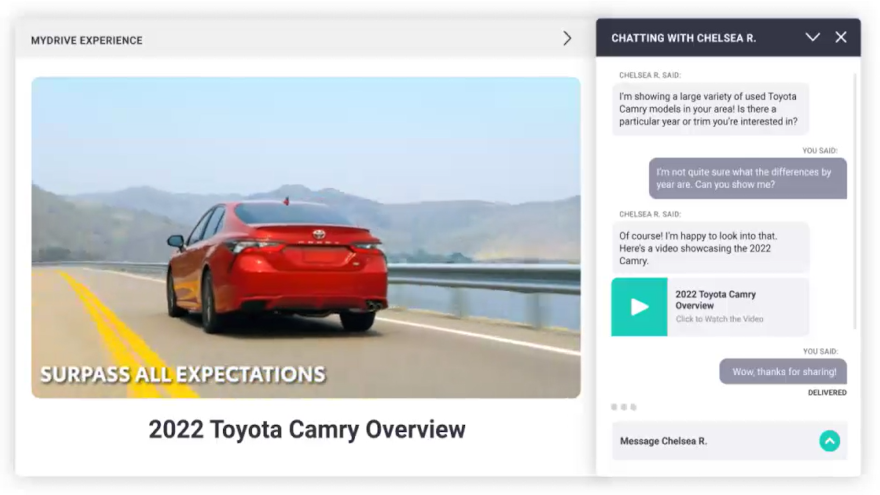 This week, ActivEngage introduced the MyDrive Experience to its core messaging solutions.
Before a potential buyer even steps onto the store blacktop, automotive dealers, dealer groups, OEMs and strategic partners using ActivEngage Messaging on their websites now can offer vehicle videos showcasing walkthroughs and virtual test drives by way of MyDrive, which are fueled by ActivEngage's strategic partnerships with some of the best video and marketing technology providers.
"ActivEngage is on a mission to make digital consumer experiences with automotive retailers even more engaging, like the live, in-person feel you get on location at the dealership. Interactive, conversational tools gently steer shoppers toward the path to purchase and encourage deal completion," ActivEngage CEO Ted Rubin said in a news release.
"Our cutting-edge technology and people-focused approach to selling cars arms engagement experts with innovative features, such as custom model videos, dealer recognition, and process videos to enhance the natural progression of conversations is only the beginning of our vision," Rubin continued.
MyDrive is available on-demand during live messaging chats for sharing vehicle videos through a panel slide-out built inside the ActivEngage messaging window.
This feature can help to educate shoppers and keep their attention longer to gather deeper insights into shopper behavior, so dealership sales staff can have more productive conversations when connecting with the consumer.
Because MyDrive videos are triggered by entering a vehicle identification number or year, make, and model, shoppers can continually evolve further down-funnel to the sale with multiple vehicle details for easy comparisons.
"For over a decade, we have been uniquely positioned to innovate messaging technology, advancing the conversational flow between automotive dealers and consumers," ActivEngage CIO Michael Third said.
"We have created both easy integrations and industry-leading stability. MyDrive is another significant step forward in enabling the next generation of tech-savvy car buying and enhancing the always-growing suite of ActivEngage automotive retailing technologies," Third went on to say.
To learn more about MyDrive and the ActivEngage suite of automotive retailing technologies, visit activengage.com.