Applications now being taken for 7th annual Fueling Careers Scholarship Program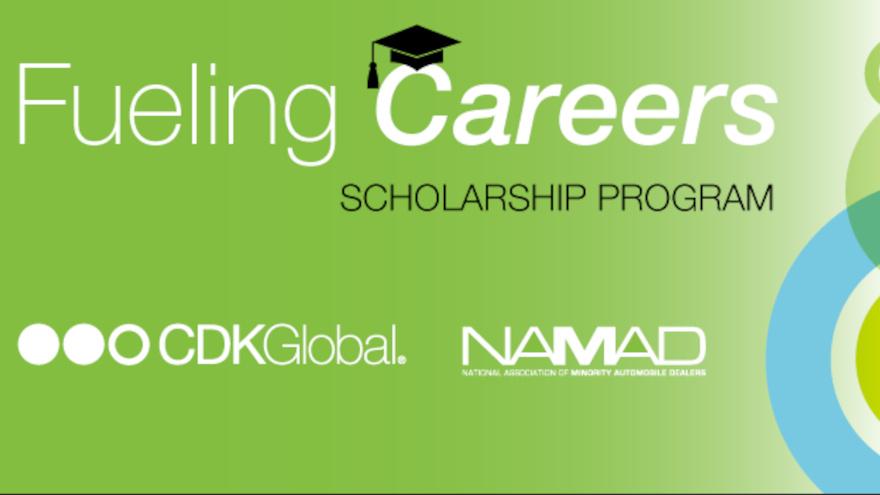 This week, CDK Global and the National Association of Minority Automobile Dealers (NAMAD) announced that the seventh annual Fueling Careers scholarship program now is accepting applications.
Officials said the scholarship program was established to support ethnic minority high school students of dealership employees who demonstrate financial need in their pursuit of a college education.
The Fueling Careers Scholarship Program, funded by CDK Global, will once again award up to five $10,000 scholarships to high school seniors entering an accredited college or university. NAMAD members can select dealership employees to participate in the program.
"We are committed to supporting ambitious young men and women who are dedicated to achieving educational goals that will equip them for meaningful and productive careers," said Kathy Gilbert, senior director of minority dealers and women retail at CDK Global.
"Collaborating with NAMAD has played a crucial role in facilitating the program, enhancing the lives of participating students and their families, and empowering them to make significant contributions to society," Gilbert continued.
CDK Global introduced the program in 2017 and has awarded more than $300,000 in scholarships to outstanding recipients. The initiative demonstrates the shared commitment of CDK and NAMAD to help build strong leaders and nurture a hearty pipeline of minority talent for the next generation.
Previous recipients have attended, and are currently attending, universities throughout the United States.
"We have an exceptional chance and a crucial duty to play a role in shaping the future talent for the automotive industry," NAMAD president Hugene Fields said. "Supporting our minority dealer community has been an imperative agenda for both NAMAD and CDK Global, and implementing this scholarship program, we are clearing the path for exceptional students within our minority dealer network to excel."
The scholarship application and award process will be managed by International Scholarship and Tuition Services (ISTS), and award recipients will be selected based upon both academic merit and financial need.
Dealership managers with high school students will complete an online application and must satisfy all eligibility requirements.
Student applications will be accepted through May 8.
Emily Martin was among the 2022 Fueling Careers scholarship recipients. Martin now is a Lynn University student.
"I chose business as my major to fulfill my lifelong dream of operating my own car dealership, inspired by my father's career in the automotive industry. Growing up, I was exposed to the industry from an early age, and my fascination with automobiles has continued to develop," Martin said.
"I have learned a lot from my father about the business and feel well-prepared to take on the challenges that come with owning a dealership. Despite the obstacles, I am determined to pursue my ambition and make the necessary sacrifices to achieve my dream," Martin went on to say.
Applications and program information can be found at https://programs.applyists.com/fuelingcareers/.