Auction Academy moves training to virtual classroom for rest of 2020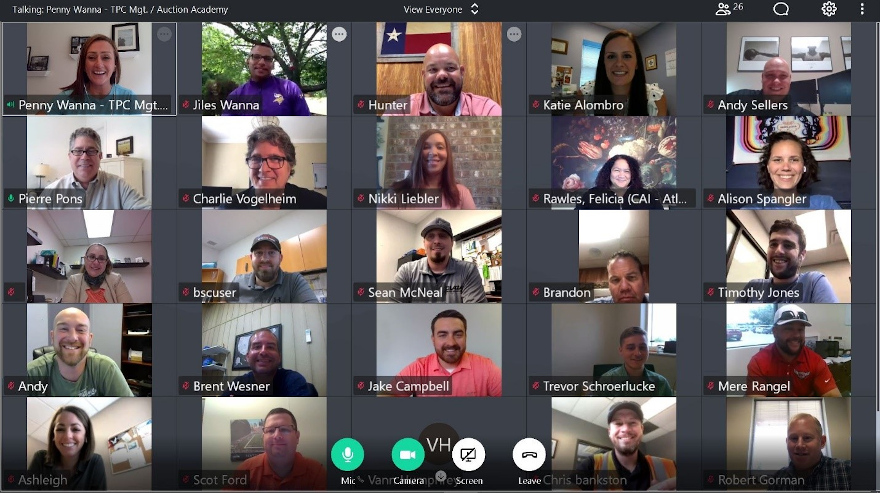 FRANKLIN, Tenn. -
Auction Academy is carrying on with its training program, but participants will be relegated to computer screens for the remainder of the year.
Auction Academy president Penny Wanna announced on Monday that its current Class 6 Group will gather via a virtual classroom. Furthermore, the group's previously scheduled quarterly meetings for 2020 are being replaced by monthly virtual sessions, which started on June 22.
Auction Academy also said in-person and on-site training and education sessions will resume in February.
"Due to the COVID19 Pandemic and its many effects on our daily lives, Auction Academy has made the difficult decision to not host any in-person sessions for the rest of 2020," said Wanna, who notes that the change comes half-way through the class group's original two-year course syllabus. "The remaining four sessions will be scheduled on a quarterly basis in 2021."
Wanna reported that although students and staff will not meet in its traditional in-person format, Auction Academy is taking measures to continue the class group's momentum, stay connected and provide the current students with a learning environment. A virtual schedule will include monthly interactive video sessions through the end of the year, which will alternate between a leadership focus and an industry topic.
"While we were all initially disappointed to cancel the in-person sessions, we have great expectations that the restructured virtual program will help fill the void and continue the all-important progress Class 6 has made in its training process," Wanna said.
"At Auction Academy, we feel incredibly positive about our ability as a group and as an industry to be flexible, to adapt without pause and to rise to the challenge of showing our resilience," she continued. "We have an excellent curriculum lined up through the second half of 2020, and will continue with quarterly in-person training next year, culminating in Class 6 Group's rescheduled graduation in September of 2021 during the NAAA Convention in Chicago.
Auction Academy's first virtual session convened on June 22, providing an opportunity for students and staff to reconnect as a group and to discuss in depth the details of the program going forward.
Monthly sessions beginning this month will lead off with a presentation by David Walsh of JM Family Enterprises, who will discuss leading during a pandemic. Successive months' topics will include OSHA training, online sales processes and professional leadership training.
"Navigating life during the COVID-19 Pandemic is challenging on many fronts, and we are all working to persevere both personally and professionally," Wanna said. "At Auction Academy we are privileged to work with some of the best and brightest presenters in the industry, and we are looking forward to continuing our association with them by means of a restructured virtual format until we can resume the regular curriculum in 2021."
Auction Academy is a continuing education program developed by TPC Management Co. (TPC) for professionals in the auction industry. Auction Academy has developed two distinct curriculums, the first being the original two-year program which provides a training and development experience for auto auction professionals, structured like an Executive MBA program. The second curriculum is the newer Seminar Series, one-day intensive sessions focused on a specific topic or functional area.
With faculty drawn from expert practitioners around the country, Auction Academy's programs are designed to enhance essential skill sets, promote best practices and yield better auction performance. The curriculum includes site visits, field trips and work with industry experts in all areas of auction operations.
For additional information about Auction Academy, contact Wanna by telephone at (615) 591-4544 or by email Pwanna@auctionacademy.net, or visit the website www.auctionacademy.net.