Auction notebook: United Auto Credit gives award & Auction Academy students move up the ranks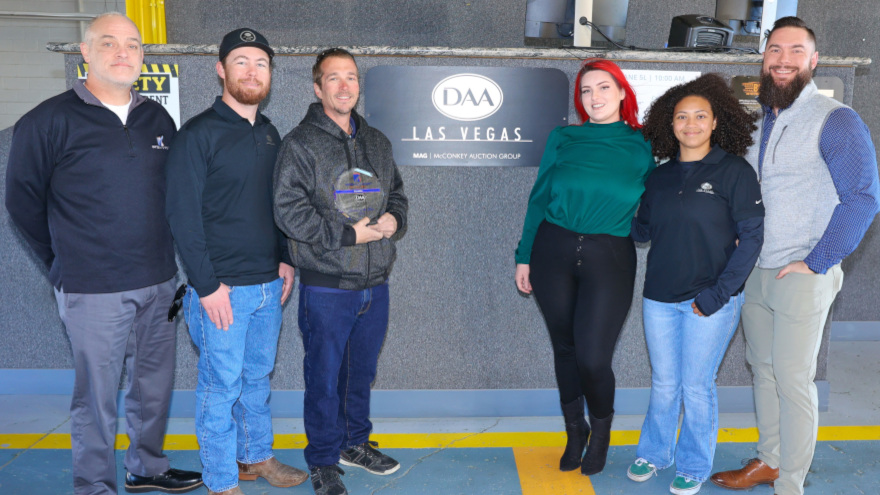 This auction news roundup includes details about United Auto Credit's 2022 Auction of the Year Award recipient as well as the recent, robust successes of Auction Academy's Class Group 7.
To recognize "exceptional performance and dedication of the team," United Auto Credit gave its 2022 Auction of the Year Award to DAA Las Vegas.
"We are honored to receive this recognition from United Auto Credit," DAA Las Vegas general manager Joe LeMonds said in a news release.
"Our team is dedicated to providing the highest level of service and support to our customers, and it is gratifying to see that hard work and dedication recognized in this way. We look forward to continuing our partnership with United Auto Credit, building on our success in the years to come," added LeMonds, who runs the operation that's part of the McConkey Auction Group.
"DAA Las Vegas has consistently exceeded our expectations and has been a valuable partner in our remarketing efforts," United Auto Credit director of asset remarketing Scott Mousaw said in the news release.
"Their commitment to excellence and customer service is evident in the results they have achieved, and we are thrilled to recognize them with this award," Mousaw said.
Auction Academy students receive industry promotions
Auction Academy is like other institutions of higher education, cheering how students graduates are progressing up the ranks of their professional careers.
Auction Academy president Penny Wanna recently highlighted Class Group 7 is making its mark on the remarketing industry, as four of its members have recently been promoted to significant management positions. That quartet includes:
—Houston Gordon as assistant general manager at Greensboro Auto Auction
—Danny McNelis as director auction relationships at NextGear Capital
—Stacy Brown as vice president of digital sales at Dealers Auto Auction Group
—Chris Karwoski as assistant vice president of reconditioning operations at Manheim/Cox Automotive
"It is exciting to see Auction Academy students and graduates progress in their careers as they pursue intensive industry training with Auction Academy," said Wanna, who oversees the continuing education program developed by TPC Management Co. (TPC). "We congratulate these four members of Class Group 7 on their promotions and know they'll contribute a high level of skill and professionalism to their respective companies."
Wanna mentioned that these promotions follow three others that were announced earlier in the Class Group 7 term, including:
—Becky Anderson as president CARS Recon
—Whitney Gerkin as associate vice president of operational excellence at Manheim/Cox Automotive
—Andrew Schaefer as general manager at Indiana Auto Auction.
Class Group 7 has posted more advancements while in session than any previous group, according to Auction Academy.
"From the beginning we have been impressed with the skill and devotion exhibited by the those who have pursued industry training through Auction Academy," Auction Academy co-founder and CEO Pierre Pons said.
"It's a great pleasure for all of us involved to work with them, to watch their progress at the companies they work for, and to observe the impact they are making on the remarketing industry," Pons went on to say.
Auction Academy is for professionals in the auto auction industry. Its two-year program provides a training and development experience for auto auction professionals, structured like an executive MBA program.
With faculty drawn from expert practitioners around the country, Auction Academy's programs are designed to enhance essential skill sets, promote best practices and yield better auction performance. The curriculum includes site visits, field trips, technical certifications and work with industry experts in all areas of auto auction operations.
For additional information about Auction Academy, contact Wanna by telephone at (615) 591-4544 or by email at pwanna@auctionacademy.net. Or visit the website at www.auctionacademy.net.