Auctions: Barrett-Jackson raises $3.4M for charity; Charleston AA update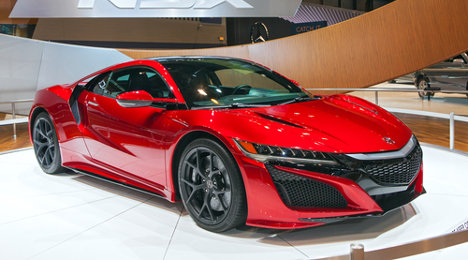 CARY, N.C. -
Updates from Barret-Jackson this week show that the auction raised $3,406,000 for both local and national charitable organizations during its 45th Anniversary Auction held in Scottsdale, Ariz. at the end of January.
The auction sold 11 charity vehicles during this year's event, bringing the company's overall charitable auction sales to date to a little over $88 million.
Some of the vehicles of note sold during the event include the very first production 2017 Acura NSX, with VIN #001, which sold for $1.2 million, as well as one of the first 2016 Ford Focus RS vehicles which sold for $550,000. Those two vehicles were donated by Acura and Ford to benefit the Pediatric Brain Tumor Foundation and Camp Southern Ground as well as the Juvenile Diabetes Research Foundation, respectively.
Several celebrities attended the charity auction event, including the Zac Brown Band, Jay Leno, NASCAR driver Brad Keselowski and professional rally driver Ken Block.
"More than 45 years ago, the first Barrett-Jackson event was held to raise money for the Scottsdale library," said Craig Jackson, chairman and chief executive officer of Barrett-Jackson. "I'm proud that spirit of charity continues to be such a strong part of our auctions today. Every year, the generosity of our consignors, sponsors, celebrities and bidders grows stronger. This year we were especially excited to be a part of a new VIN #001 charity sale record when the Acura NSX supercar sold for $1.2 million."
Charleston Auto Auction's new event
In other auction news, the Charleston Auto Auction announced at the end of January that it will host its 1st Annual Shuck'n, Truck'n and More event on Tuesday.
The event will include over 400 units, made up by over 150 vehicles from Dick Smith Automotive, lease/bank units, as well as dedicated truck/SUV and late-model vehicle lanes.
The pre-sale begins at noon EST on Tuesday with a free oyster roast and low country boil along with live music by the Shem Creek Boogie Band. The first 75 dealers in attendance will receive a complimentary Charleston Auto Auction hat while everyone will have a chance at the auction's $5,000 in cash and prize giveaways.
"We are looking forward to sharing some low country traditions and a great run of vehicles with dealers from across the southeast," said Laura Taylor, the auction's general manager.
Auction123 receives Reynolds certification
Auction123 Inc. recently announced that it has completed the certification process for the Reynolds Certified Interface Program for its Reynolds and Reynolds ERA dealership management system.
According to the company, this certification helps ensure safe, secure and reliable integration between the Reynolds and Reynolds ERA DMS and the Auction123 suite of inventory management and online marketing solutions.
"We are excited to be an RCI-certified vendor," said Ray Basha, Auction123's chief executive officer. "Our dealers depend on Auction123's software to power their day-to-day online presence. The accuracy of the inventory data is critical to their business. With this certification, our Reynolds and Reynolds customers will have peace of mind knowing we provide safe, reliable access to their DMS data through the most secure process available."