Auto auctions: $100 billion industry in 2016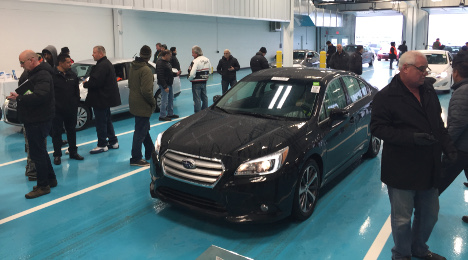 FREDERICK, Md. -
It's no secret or surprise that used-car volumes are up, but a survey released Tuesday sheds some light on where a significant portion of those cars are going: the $100 billion business of vehicles moving through wholesale auto auction lanes.
There were 17.7 million vehicles that reached the auction in 2016, which was 2.3 percent higher than the year before, according to an annual National Auto Auction Association survey of its members.
The number of "actual and projected used vehicles" sold at NAAA member auctions was up 4.6 percent at 9.8 million, the association said in a news release. The value of those cars equated to $100 billion, NAAA said.
Of those 9.8 million cars sold, 52 percent was dealer consignment, with 40.3 percent being lease, fleet or repossession volume. Factory vehicles had a 6.5-percent share of sales volume and 1.2 percent came from other sources, NAAA said.
"The 2016 results are very encouraging," NAAA chief executive officer Frank Hackett said in a news release.
"The survey results show the strength and depth of a mature industry that has demonstrated its resiliency," he said. "I'm confident we'll continue to be a vital and growing part of our nation's economy as we look forward to celebrating the auto auction industry's 80th anniversary in 2018."
The survey was conducted on behalf of NAAA by Arlington, Va.-based CliftonLarsonAllen, LLP. The association said 252 of its 342 member auctions responded (74 percent response rate). The volumes of vehicles entering the lanes, sales volumes and gross values are projected out to be representative of all 342 member auctions.
The data also provides some fundamental statistics on the average NAAA member auction.
On average, they have eight lanes, 78 acres and 137 employees. The average payroll is $4.2 million. Average annual charity donations are $26,000.
'Auto Auction of Tomorrow'
The above shows what an auction looked like in 2016. Later this year, NAAA will be sharing research on where auctions will likely be in 2027 and beyond.
The association announced Tuesday it has commissioned industry consultant Glenn Mercer to conduct a study on the future on the auto auction business. The "Auto Auction of Tomorrow" research endeavor will delve into projections on what the industry could look like a decade from now.
"Wholesale auto auctions began in the USA in the 1930s, and have thrived ever since," Hackett said. "With insights from this research, we hope to assist our members in their long-term planning processes so that our industry is just as vibrant and healthy in the 2030s."
In the news release the association shared a bit of context around why it has asked for the research, particular in light of advancing technologies in the auto industry at large.
"As key participants in the automotive industry, NAAA members have taken notice of the many changes that are sweeping that industry today, from the rise of mobility services such as Lyft to the impending launch of autonomous vehicles," the association said.
"Accordingly, NAAA — as the pre-eminent voice of the auto auction industry — has concluded that it is in the best interests of its members to provide them with objective and informed research into how these and other changes might affect their future prospects," it continued. "Armed with such research, members will be better equipped to revise and update their business plans."
NAAA plans to share the results of the study with its members at its annual convention, which joined forces with the National Remarketing Conference as part of Used Car Week.