AutoNation rolls out 6- to 12-month 'Micro-Leases'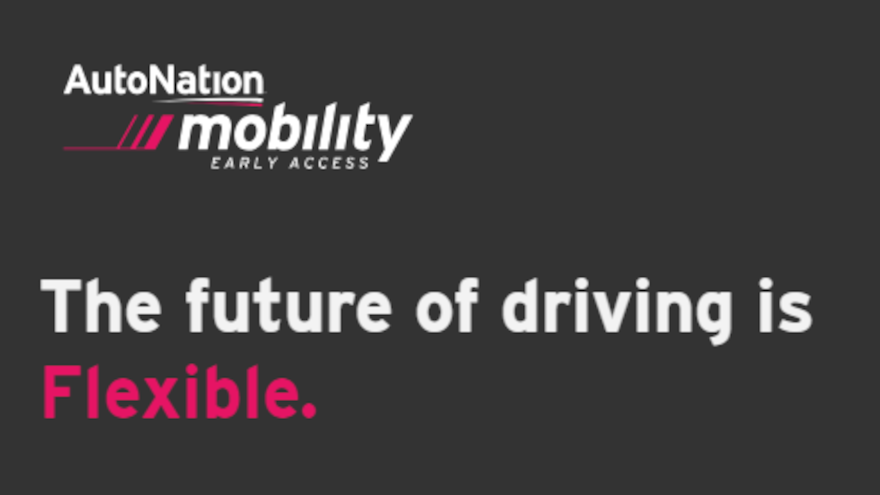 AutoNation is getting creative in a way that could potentially solve several issues for the dealer group and its customers.
The company's AutoNation Mobility division is booking what's dubbed "Micro-Leases," putting customers into new cars connected to leases lasting six to 12 months.
According to the program website, these "Micro-Leases" currently are available only at AutoNation stores in California and South Florida.
"Drive it on your terms, with no long–term commitment. So you can change your ride to follow the road — anywhere it takes you," AutoNation posted on the website highlighting this leasing option.
Perhaps AutoNation can accomplish multiple objectives, including:
—Getting new models out of inventory
—Bringing back off-lease models that can be retailed, maybe even certified
—Offering more affordable options for customers
A chart on the AutoNation Mobility gave the example of how taking on a "Micro-Lease" for 2023 Dodge Challenger is better than renting, or signing a 36-month lease or 60-month retail installment sales contract.
With an up-front payment of $2,400, AutoNation calculated the "Micro-Lease" monthly payment to be $820, which is less than the $864 payment for the installment contract or $914 for the traditional lease.
And AutoNation estimated the monthly rental fee for that Challenger to be $2,013.
AutoNation pointed out its "Micro-Lease" also includes all maintenance while the other lease option and the installment contract do not.
"Whether you're looking for a family car, want to try electric, or simply want to have some fun: We've got options," AutoNation said on that website.
Perhaps six to 12 months later, the used-car manager at an AutoNation store can have some fun, too, with a desirable piece of inventory.