AutoNation, top drivers, race to fight cancer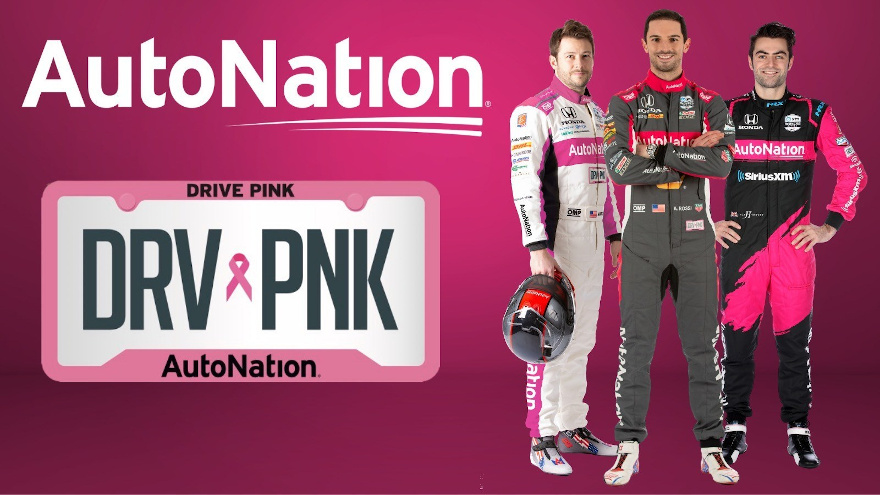 FORT LAUDERDALE, Fla. -
Marco Andretti says race car drivers often face challenges. But that is nothing compared to the challenges of those fighting cancer.
"We support all the cancer survivors and those who are fighting right now," said Andretti, a two-time NTT INDYCAR SERIES race winner, in a news release.
AutoNation said Andretti and two other NTT INDYCAR SERIES drivers helped AutoNation support its Drive Pink initiative, or DRV PNK, and kick-off Breast Cancer Awareness Month.
Andretti, along with 2016 Indianapolis 500 winner Alexander Rossi and 2019 INDYCAR Grand Prix podium finisher Jack Harvey, sported pink liveries in the INDYCAR HARVEST Grand Prix Race 2. That race took place on Saturday, and the drivers displayed the DRV PNK logo and pink brand elements on their cars, fire suits and helmets.
Harvey, No. 60 AutoNation/SiriusXM Honda driver, is happy to help in the fight against cancer.
"I am so honored to be joined by Alexander and Marco to DRV PNK for AutoNation and help raise awareness and funds that will hopefully lead us to a world without cancer," Harvey said.
"We may be fierce competitors on the track, but off the track, we are completely united in our efforts to drive out cancer," said Rossi, No. 27 AutoNation/ NAPA AUTO PARTS Honda Driver and 2016 Indianapolis 500 Winner.
DRV PNK is an AutoNation philanthropic initiative and company-wide effort. It focuses on charitable giving and volunteerism to raise awareness, generate resources, and build support for cancer-impacted groups. The company is working toward more than $25 million donated to cancer treatment and research.
"AutoNation is extremely grateful to these three outstanding drivers and their teams," AutoNation's executive vice president and chief customer experience officer Marc Cannon said in a news release. "We thank each of them for their partnership and their commitment to help drive out cancer."
The company says it offers a company-paid cancer insurance plan to all its associates and their eligible dependents on their first day of employment.