AutoNation won't build more pre-owned stores in 2019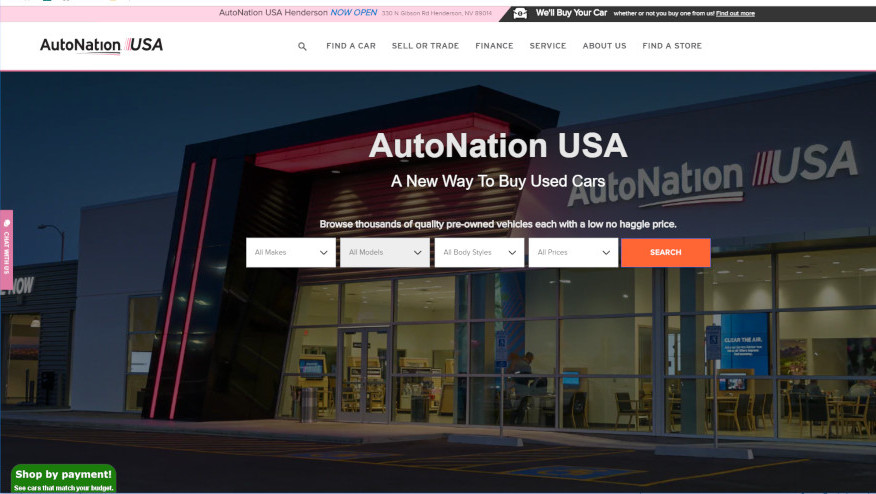 CARY, N.C. -
AutoNation doesn't plan on building any new AutoNation USA pre-owned stores in 2019, and will instead focus on the Customer Care piece of its brand extension strategy.
"We are encouraged by current progress and are continuing to evaluate the existing stores," chief operating officer Lance Iserman said during opening remarks of the dealer group's latest quarterly earnings call. "The investment in AutoNation USA stores adversely impacted third-quarter of 2018 by less than two cents."
AutoNation doesn't intend to expand AutoNation USA next year "and will continue to evaluate our initial five stores," Iserman said.
Discussing the retailer's overall bucket of brand extension program, of which AutoNation USA is a part, chief executive officer Mike Jackson said: "During the quarter, we were looking very closely as to where we invest time management and capital more aggressively — and you can't do everything at the same time — and where then could we take a bit more patient view."
Specifically, to the used-car standalone stores, Jackson later added that, "when you look at what we could do over in Customer Care, we decided to push our plans there, let another year unfold on the USA stores" and make the investment in online retailer Vroom, as reported earlier.
There are two AutoNation USA stores in the Houston market, one in the Corpus Christi, Texas market and one each in the Phoenix and Las Vegas markets.
Jackson said the stores are "up and running, and they're progressing about where we thought, but considering the other investments that we decided to make in the third quarter, and the fact that the stores need still (more) time for maturity," the group decided not to build any more.
Meanwhile, fellow public retailers Penske Automotive Group and Sonic Automotive are looking to grow their used-car store operations.
"We expect to grow the standalone used business through a combination of e-commerce initiatives and new market introductions," Roger Penske said in his group's earnings call. "We're in the process of developing four new standalone sites, which we expect to open in the latter half of 2019."
Over at Sonic, the group will have opened eight EchoPark locations stores by year's end and has chosen where the next stores will be, according to a transcript of the group's call provided by Seeking Alpha.
"We don't want to get out too far ahead of ourselves in terms of the next market, but we do have the next few markets selected and we'll announce that at the appropriate time," Sonic president Jeff Dyke said, according to the transcript.
Correspondents Arlena Sawyers and Daryl Lubinsky contributed to this report.