BacklotCars charity auction generates $183K for Canine Companions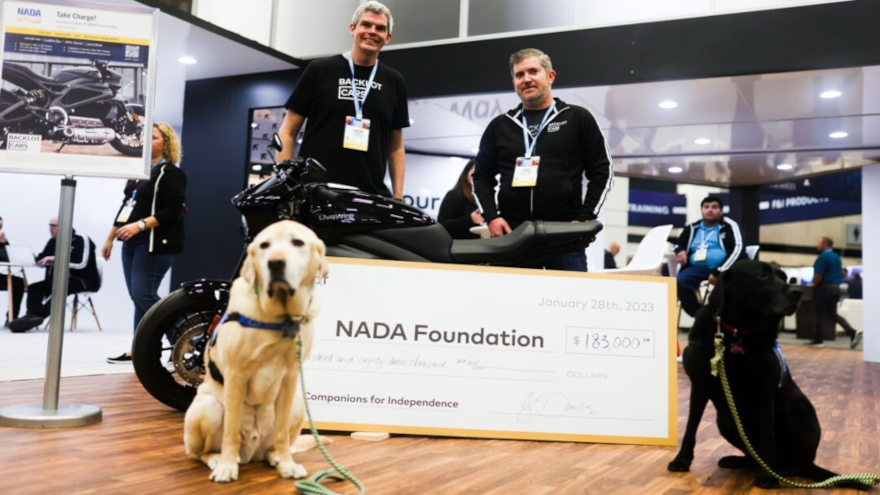 BacklotCars had one of the most active booths on Saturday during NADA Show 2023 in Dallas.
That company that's part of KAR Global auctioned off a 100% electric, liquid black LiveWire One motorcycle, raising more than $109,000 for the NADA Foundation's Frank E. McCarthy Memorial Program that benefits Canine Companions.
Canine Companions is a non-profit organization that enhances the lives of people with disabilities by providing expertly trained service dogs and ongoing support to ensure quality partnerships. Dogs and all follow-up services are provided at no cost to the clients.
The organization's cause was dear to the late Bob Mallon, who founded the NADA Foundation in 1975, and the late Frank McCarthy, who served as NADA's chief executive from 1968 to 2001.
Additional auction proceeds and donations raised more than $74,000 in one day.
Canine Companions graduate Susan Mahoney (joined by her service dog, Misha) offered remarks at the auction, which took place on Saturday at the BacklotCars booth. Also onsite was Laura Manning, Canine Companions director of philanthropy, along with several clients and their service dogs, and volunteer puppy raisers with their future service dogs.
"Now in our 12th year, we are proud to partner with the NADA Foundation and Canine Companions for Independence to provide people with disabilities the ability to live independent lives," KAR Global chief executive officer Peter Kelly said in a news release. "Thanks to our generous BacklotCars dealers and partners, we've raised more than $905,000 to date — providing veterans and people with disabilities with highly skilled dogs that can offer independence, confidence and companionship."
The winning bidder was David Taylor of Taylor Chevrolet in Rexburg, Idaho.
Since 2004, NADA Foundation's Frank E. McCarthy Program has contributed more than $1 million to Canine Companions.
"Dealers are without a doubt committed to serving others, including veterans and active servicemen and women" said Annette Sykora, chairwoman of the NADA Foundation and NADA 2008 chairwoman. "The funds raised through the BacklotCars auction will help NADA and its members serve the veterans who can benefit from a Canine Companions service dog."
For more information on the NADA Foundation, go to this website. For more information on Canine Companions, go to this website.