Best CPO Dealers: Brand-by-brand sales rankings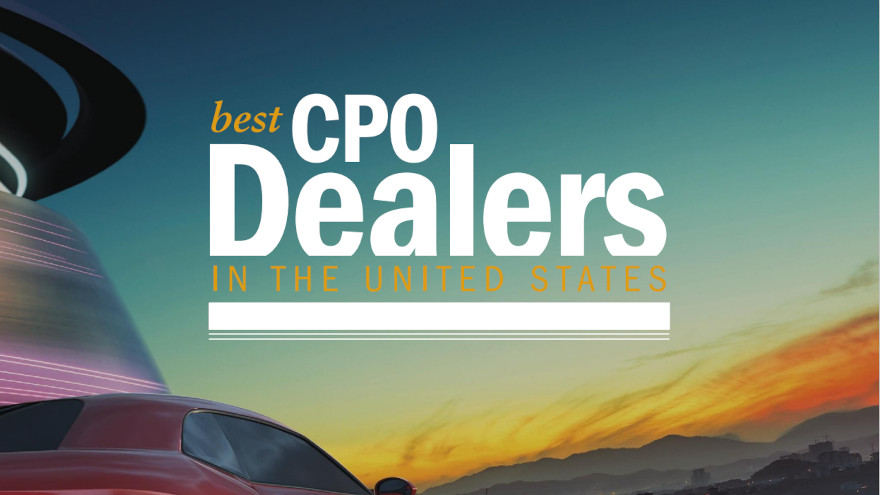 To recognize the dealers leading the certified pre-owned car business, Auto Remarketing presents our annual special issue honoring "The Best CPO Dealers in the USA," which is presented by CARS.
We reached out to automakers across the CPO spectrum and requested their respective top 10 certified dealer lists based on full-year 2022 sales.
We hope these rankings and data provides an insightful glimpse into CPO.
Below is a brand-by-brand look at the 10 best-selling CPO dealers for each respective brand, with full-year 2022 CPO sales and city/state (where provided).
Our special issue on the Best CPO Dealers also includes feature stories on automaker CPO strategies, industry-wide certified sales updates and more. It can be accessed online here.
ACURA
PARAGON ACURA WOODSIDE, N.Y. 939
VANDERGRIFF ACURA ARLINGTON, TEXAS 797
GILLMAN ACURA HOUSTON 528
MUNGENAST ST LOUIS ACURA MANCHESTER, MO. 521
ACURA OF PEMBROKE PINES PEMBROKE PINES, FLA. 487
RADLEY ACURA FALLS CHURCH, VA. 462
ELITE ACURA MAPLE SHADE,N.J. 454
POHANKA ACURA CHANTILLY, VA. 461
OPEN ROAD ACURA OF WAYNE WAYNE,N.J. 415
NIELLO ACURA ROSEVILLE, CALIF. 405
BMW
BMW OF FORT LAUDERDALE 1,622
HENDRICK BMW 1,476
BRAMAN MOTORCARS 1,353
BMW OF GRAPEVINE 1,216
CHAPMAN BMW 1,135
TULLEY BMW 1,127
BMW OF SAN ANTONIO 1,082
BEVERLY HILLS BMW 988
PARK AVENUE BMW 978
UNITED BMW 919
FORD
ANDY MOHR FORD, INC. PLAINFIELD, IND. 2,461
GARY YEOMANS FORD DAYTONA BEACH, FLA. 2,421
ELDER FORD OF TAMPA TAMPA 2,334
FIVE STAR FORD NORTH RICHLAND HILLS, TEXAS 1,764
APPLE FORD APPLE VALLEY APPLE VALLEY, MINN. 1,605
GALPIN FORD NORTH HILLS, CALIF. 1,563
GARY YEOMANS FORD OCALA OCALA, FLA. 1,467
PAT MILLIKEN FORD, INC. REDFORD, MICH. 1,433
RED MCCOMBS FORD SAN ANTONIO 1,408
MCCOMBS FORD WEST SAN ANTONIO 1,294
GENERAL MOTORS
OVERALL CHEVROLET SERRA WHELAN: 1,883
OVERALL BUICK-GMC BECK & MASTON BUICK-GMC: 1,103
NORTH CENTRAL SERRA-WHELAN: 1,883
NORTHEAST BANKS CHEVROLET: 1,436
SOUTHEAST FERMAN CHEVROLET: 960
SOUTH CENTRAL CLASSIC CHEVROLET (GRAPEVINE,TEXAS): 1,228
WEST VAN CHEVROLET: 1,176
*General Motors is recognizing its overall CPO leaders among its respective Chevrolet and Buick-GMC dealerships, as well as regional leaders
HONDA
PARAGON HONDA WOODSIDE, N.Y. 2,661
BRAMAN HONDA MIAMI 1,693
NORM REEVES HONDA SUPERSTORE CERRITOS, CALIF. 1,684
GALPIN HONDA MISSION HILLS, CALIF. 1,564
DCH PARAMUS HONDA PARAMUS, N.J. 1,534
HONDA OF NEW ROCHELLE NEW ROCHELLE, N.Y. 1,320
PLANET HONDA UNION, N.J. 1,271
RICK CASE HONDA DAVIE, FLA. 1,260
FINDLAY HONDA HENDERSON HENDERSON, NEV. 1,174
MOHAWK HONDA SCOTIA, N.Y. 1,139
HYUNDAI
HYUNDAI OF NEW PORT RICHEY 1,427
UNIVERSAL HYUNDAI 813
BRAMAN HYUNDAI 768
JENKINS HYUNDAI 590
RICK CASE HYUNDAI 545
LESTER GLENN HYUNDAI 522
JENKINS HYUNDAI OF LEESBURG 519
ABC HYUNDAI 518
VANDERGRIFF HYUNDAI 501
INFINITI
SEWELL INFINITI OF N HOUSTON 746
GRUBBS INFINITI, LTD. 658
SEWELL INFINITI 533
INFINITI OF TAMPA 487
CREST INFINITI 439
AUSTIN INFINITI, INC. 370
WEST HOUSTON INFINITI LTD. 363
FAULKNER INFINITI OF WILLOW GROVE 343
INFINITI OF COOL SPRINGS 339
INFINITI OF PALM BEACHES 310
LEXUS
SEWELL LEXUS 2,018
PARK PLACE LEXUS PLANO 1,232
POHANKA LEXUS CHANTILLY 1,104
LONGO LEXUS 1,089
JOHNSON LEXUS OF RALEIGH 978
NALLEY LEXUS-SMYRNA 943
LEXUS OF NORTH MIAMI 917
JOHNSON LEXUS OF DURHAM 893
HENNESSY LEXUS OF ATLANTA 885
HENNESSY LEXUS / GWINNETT 879
LINCOLN
VARSITY LINCOLN, INC. NOVI, MICH. 617
NORTH PARK LINCOLN SAN ANTONIO 514
DORAL LINCOLN DORAL, FLA. 453
WEST POINT LINCOLN HOUSTON 294
HINES PARK LINCOLN, INC. PLYMOUTH, MICH. 286
PINES LINCOLN PEMBROKE PINES, FLA. 280
GARY YEOMANS LINCOLN DAYTONA BEACH, FLA. 237
LINCOLN OF WAYNE WAYNE, N.J. 236
HERB CHAMBERS LINCOLN NORWOOD, MASS. 217
GALPIN LINCOLN VAN NUYS, CALIF. 212
MAZDA
MAZDA OF PALM BEACH NORTH PALM BEACH, FLA. 789
WAYNE MAZDA WAYNE, N.J. 655
OCEAN MAZDA DORAL, FLA. 603
MAZDA SOUTH AUSTIN, TEXAS 518
TYRONE SQUARE MAZDA SAINT PETERSBURG, FLA. 503
GARDEN CITY MAZDA HEMPSTEAD, N.Y. 480
MAZDA OF NEW ROCHELLE NEW ROCHELLE, N.Y 449
GALPIN MAZDA NORTH HILLS, CALIF. 448
JIM ELLIS MAZDA OF MARIETTA MARIETTA, GA. 440
ROGER BEASLEY MAZDA
GEORGETOWN GEORGETOWN, TEXAS 401
NISSAN
SUTHERLIN NISSAN FORT MYERS, FLA. 1,387
TROPHY NISSAN MESQUITE, TEXAS 1,114
NISSAN OF GARDEN CITY HEMPSTEAD, N.Y. 1,092
NISSAN 46 TOTOWA, N.J. 1,076
SUTHERLIN NISSAN ORLANDO ORLANDO 1,063
STERLING MCCALL NISSAN STAFFORD, TEXAS 974
COURTESY NISSAN OF TAMPA TAMPA 919
REED NISSAN ORLANDO 870
NISSAN OF MISSION HILLS MISSION HILLS, CALIF. 869
CREST NISSAN OF FRISCO FRISCO, TEXAS 865
STELLANTIS
JERRY ULM CHRYSLER DODGE JEEP RAM 1,892
BILL LUKE CHRYSLER-JEEP&DODGE 1,836
LINDSAY CHRYSLER DODGE JEEP RAM 1,346
YARK CHRYSLER-JEEP-DODGE-RAM-FIAT 1,291
WESTGATE CHRYSLER JEEP DODGE RAM 1,277
ARRIGO CHRYSLER DODGE JEEP RAM OF 1,218
CENTRAL FLORDA CHRYSLER DODGE JEEP 1,202
JIM SHORKEY CHRYSLER DODGE JEEP 1,083
ROUTE 46 CHRYSLER JEEP DODGE 1,039
JEFF D'AMBROSIO CHRYSLER JEEP 970
TOYOTA
LONGO TOYOTA 3,878
CAVENDER TOYOTA 3,382
TOYOTA OF CEDAR PARK 3,220
CAMELBACK TOYOTA 2,481
AVONDALE TOYOTA 2,324
BEAVER TOYOTA OF CUMMING 2,013
AUTONATION TOYOTA WINTER 1,944
VIC VAUGHN TOYOTA/BOERNE 1,937
RIGHT TOYOTA 1,876
COURTESY TOYOTA 1,869
VOLKSWAGEN
RICK CASE VOLKSWAGEN WESTON 969
LUTHER WEST SIDE VOLKSWAGEN 746
HENDRICK VOLKSWAGEN FRISCO 639
LINDSAY VOLKSWAGEN OF DULLES 620
GUNTHER VOLKSWAGEN OF DELRAY BEACH 576
GUNTHER VOLKSWAGEN OF COCONUT CREEK 566
NORTH PARK VOLKSWAGEN 556
DORAL VOLKSWAGEN 550
LOKEY VOLKSWAGEN 537
VOLKSWAGEN SOUTHTOWNE 529
VOLVO
VOLVO CARS MALL OF GEORGIA 706
PRINCIPLE VOLVO CARS OF SAN ANTONIO 579
SMYTHE VOLVO CARS 563
HENDRICK VOLVO CARS OF CHARLESTON 516
MITCHELL VOLVO 506
CREST VOLVO CARS 424
VOLVO CARS MARIETTA 418
GUNTHER VOLVO CARS DELRAY BEACH 342
VOLVO CARS WEST COUNTY 340
MCGRATH VOLVO CARS BARRINGTON 333