Black Book launches tool to help dealers, finance companies, OEMs visualize retail data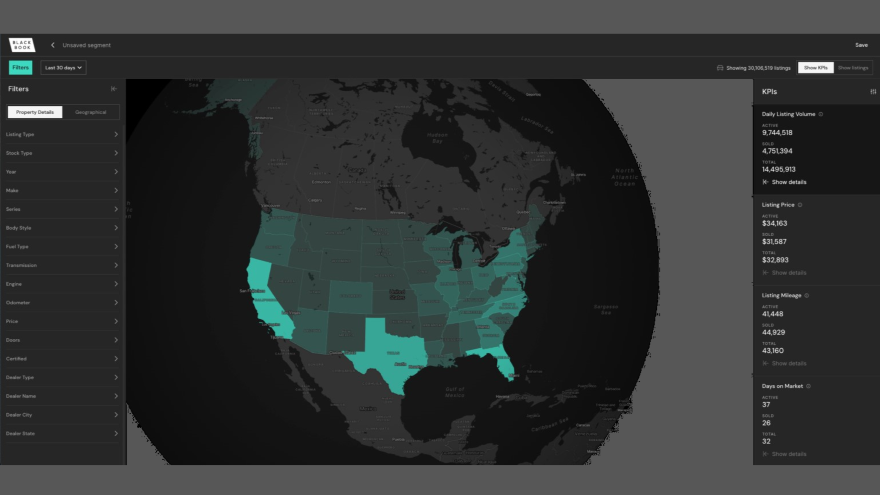 Automotive analytics and data provider Black Book has introduced Pulse, a visualization tool designed to enable automotive professionals across various verticals to gain insights from retail market data to power their business-critical decisions.
OEMs, dealer groups, finance companies and others in the industry can use retail market data to maximize their profits while minimizing their risk, and Black Book said Pulse allows them to accomplish that without any internal development work.
"Pulse has wide, exciting applications for the automotive market," Black Book senior vice president of product and technology Kyle Luck said. "For example, OEMs can use the dashboards to identify where off-lease vehicles are listed for sale, dealer groups can conduct lost appraisal analyses and lenders can identify dealerships by inventory mix or sales volume for growth.
"Our goal in developing Pulse is to give the industry the insights it needs in an intuitive and easily consumable format."
The company said Pulse gives users the ability to create segments from their own portfolio or by starting with a holistic view of the retail market. Segments can be filtered by vehicle, dealer or geographic attributes.
KPIs such as daily vehicle volume, average listing mileage and days on market are then layered to provide insight into each specific segment.
"Our team is committed to providing the automotive industry with real-time actionable data that empowers them to successfully manage their business," senior vice president of sales Susan Moritz said. "Pulse is our latest example of that commitment."
For more information, visit www.blackbook.com/pulse.