Carbly introduces Market Tracker to help dealers stay ahead of trends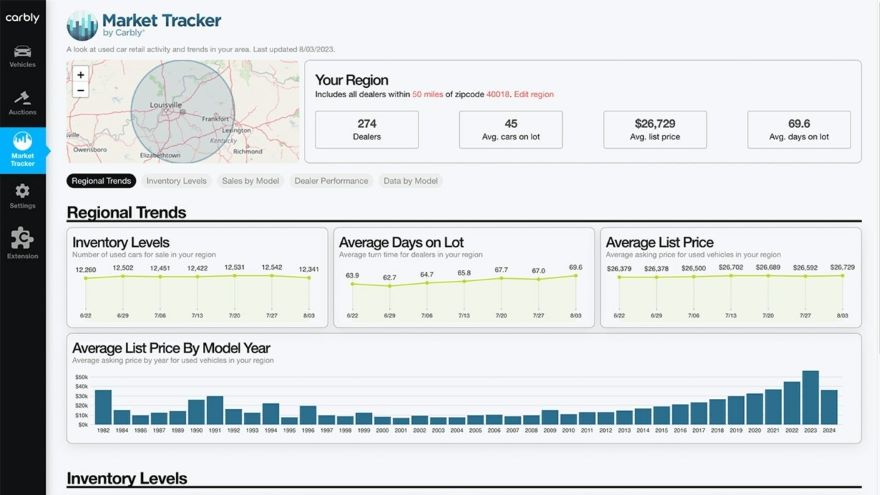 Vehicle sourcing platform Carbly has launched Market Tracker, a product designed to empower auto dealers with critical real-time insights into their regional used car retail market.
Carbly CEO Scott Roth said the new tool "draws on Carbly's massive dataset of retail vehicle data" to give dealers important observations and see trends they might otherwise miss.
"We're not only tracking vehicle performance metrics, but dealer performance metrics as well," Roth said in a news release. "This important distinction allows auto dealers to understand how their business compares to their competitors and what they can do to improve."
Market Tracker offers a suite of features designed to provide dealers with visibility into inventory levels and sales performance for each vehicle, as well as data-driven intelligence to help make informed decisions, optimize sourcing and maximize profitability.
Carbly said Market Tracker's features include:
Performance comparison, allowing dealers to measure their performance against competitors in the area, using metrics such as the number of vehicles sold, days-on-lot and lot value, to identify areas for improvement.
Supply analysis, identifying over-supplied and under-supplied vehicles in the local market, to help fine-tune their inventory sourcing and optimize vehicle mix to meet customer demand.
Demand insights from Carbly's proprietary Demand Score, which provides a ranked list of the highest- and lowest-demand vehicles in the area.
Full retail market updates every 24 hours.
Model-specific research, including historical sales trends, supply trends, expected turn time and price changes for specific make and model combinations.