CARFAX explains why autumn also is car-accident season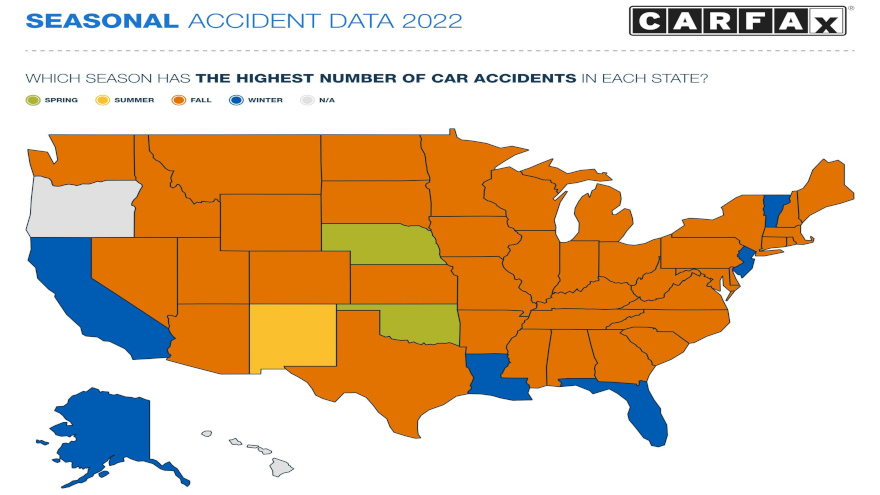 Autumn brings the brilliant colors of fall foliage, pumpkin spice added to a variety of drinks and dishes and a multitude of vehicle accidents.
CARFAX confirmed that last point, as the vehicle history report provider pointed out that fall is the time when vehicle crashes occur most often.
Although many might assume that winter is the most accident-prone season, CARFAX said more than 72% of U.S. drivers — roughly 170 million — live in states where fall is the peak season for accident damage.
CARFAX acknowledged that its finding doesn't mean winter isn't risky for drivers as well as dealerships and finance companies. Experts said 23% of drivers live in states where winter is worst for accidents. Those states include California, Florida, New Jersey, Louisiana and Vermont, and they have a combined 54 million drivers.
CARFAX went on to mention that a few states stand out because they don't follow these patterns. For drivers in Nebraska and Oklahoma, spring is the most dangerous season, and New Mexico drivers have the most accidents in summer.
Why does fall have so many accidents? Experts called out these reasons:
—Diminishing daylight: Fall means shorter days, and that means more driving in the dark, when drivers are twice as likely to have an accident as in daylight. CARFAX tabulated that half of U.S. accidents happen in the dark, but those hours account for only 25% of travel.
—Slick surfaces: Wet leaves brought down by storms can be as slippery as ice, according to CARFAX. Experts noted that braking on wet leaves can make a car travel more than twice as far as braking on a dry road.
—Deer danger: Mating season for deer runs from October through December, and nearly half of deer crashes nationwide happen in just those three months, according to CARAX. In addition, one study noted that deer-car collisions spike 16% in the week after the end of Daylight Saving Time in November because of the jump to an earlier sunset.
"CARFAX has the most accident and damage information, and sometimes that data can be surprising," CARFAX general manager for data Faisal Hasan said. "The change of seasons is a good time for drivers to see if any new recalls have been issued for their car."
Consumers can check on unfixed recalls for free at carfax.com/recall.