CarNow & Insignia Group aim to 'revolutionize' online retailing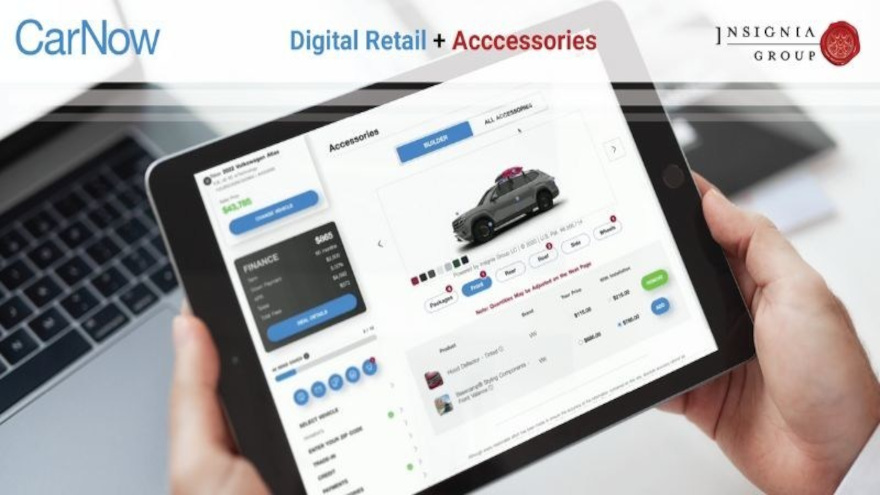 This week, Insignia Group finalized a new partnership with CarNow that the service providers claim "will revolutionize how dealerships sell vehicles online."
Through Insignia Group's API, CarNow has the ability to offer shoppers an interactive buying experience where they can build a 3D model of their vehicle, add accessories and purchase everything needed for the dealership to prepare their package.
Company executives highlighted through a news release that as the automotive digital retailing space continues to evolve, the Insignia Group-CarNow partnership helps provide a more frictionless experience for consumers and dealers alike.
Insignia Group and CarNow said dealerships now are empowered to input package details, labor pricing and control stock information for all products to give customers a seamless transaction workflow that encompasses everything they would have access to as part of the traditional in-store experience.
"The market release of visualized accessory-on-vehicles content by CarNow is the result of years of work and the next level of accessory merchandising for OEMs and dealerships," Insignia Group chief executive officer David Copp Stringer said in the news release. "Now consumers will drive the Vehicle Personalization process during the vehicle transaction."
The companies noted that other benefits of this new partnership include:
• 3D car and accessory configurators that are seamlessly integrated with the website.
• Dealer-specific pricing: including labor rates, margin, and more.
• No need for stock images of new vehicles–it's now included in the system.
• Custom accessory packages customers can easily add to their purchases and dealerships can use for advertising purposes.
The integration of the Insignia Group accessory visuals and pricing with CarNow's digital retailing platform will roll out the launch with Volkswagen brand in September and continue pushing it out to other brands into 2023.
"We are proud to enter into a partnership with Insignia Group, a true market leader in the automotive accessory space," said Tim Cox, co-founder and chief evangelist at CarNow. "Insignia Group provides a unique ecosystem of infrastructure and technology that will help us in our efforts to provide the most comprehensive and seamless digital retailing process in all of automotive.
"We are excited to continue to develop our technology and platform with a new strategic partner," Cox went on to say.