Carter: 400K Additional Leases Ending This Year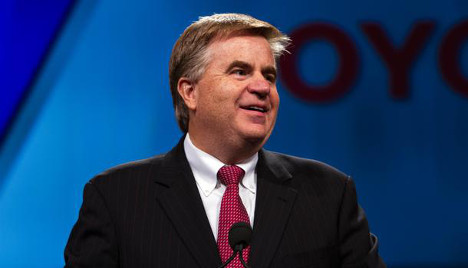 NEW YORK -
The key drivers to such strong growth in the new-car sales environment have more to with healthier economics than simply a carryover of pent-up demand — and one example of such a fortuitous sign has to do with leasing and lease returns.
That's according to prepared comments by Toyota executive Bob Carter at 2014 J.P. Morgan Auto Conference, released for the media on Tuesday.
In the comments, Carter — who is senior vice president of automotive operations at Toyota Motor Sales U.S.A. — said Toyota is anticipating the industry as a whole will tally 16.3 million new-vehicle sales this year, which would be more than 5 percent stronger than the 2013 figure.
Carter indicates that this is "healthy growth, but at a slightly slower pace than the past few years," while at the same time emphasizing the importance of what's actually spurring these gains.
"This 'new' growth is being driven by stronger economic and market conditions … not hangover pent-up demand from the recession," he said in the commments.
"For instance, 400,000 more customers than last year are expected to come off leases from all brands … and most will turn around and buy or lease a new vehicle," Carter added. "Leases made up 20 percent of new-vehicle registrations in 2013 and that trend continues this year, setting up returning customers again two years or more down the road. "
He went on to emphasize the role that auto loan rates, which have been at "historically low" rates of 3 percent to 4 percent, have played in spurring new-car sales growth, plus the impact of younger buyers entering the market.
"For example, from 2009 to 2012, vehicle sales to those born after 1980 more than doubled to 2.5 million," Carter said. "Sales increased another 20 percent the past two years and are expected to climb 10 percent this year to 3.5 million vehicles.
"So we have a lot of favorable signs," he continued. "But if you want "real proof"of consumer optimism and a stronger economy, look at July auto sales. Last month, our industry sold more than 1.4 million vehicles … up 9 percent … the best July sales in eight years. It was the sixth consecutive month of year-over-year gains and the third straight month with sales of more than 1.4 million."