Carvana eyes a rosier-than-expected Q3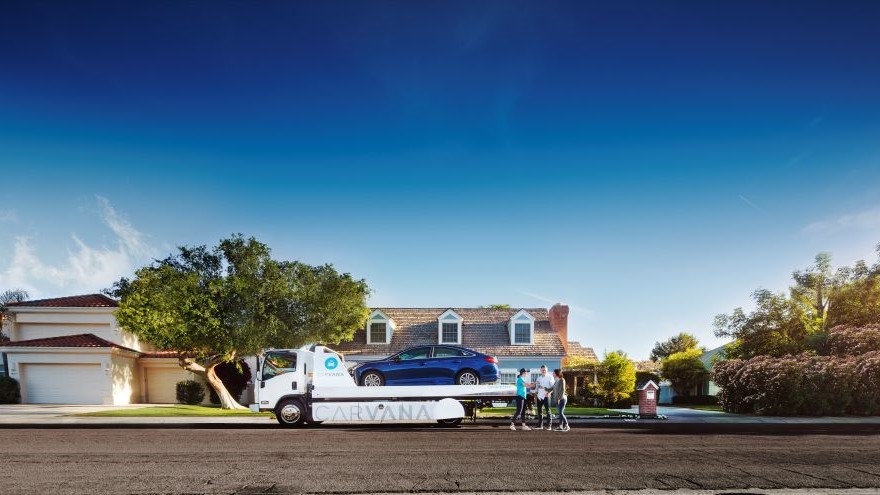 Carvana is now projecting a stronger third quarter in certain key metrics, the online used-car retailer said Wednesday.
The company had initially projected positive adjusted EBITDA for the third quarter, and has now updated that to an outlook for adjusted EBITDA above $75 million.
Carvana also now anticipates non-GAAP total gross profit per unit of more than $5,500 for the third quarter, up from the initial forecast of more than $5,000.
"In the first two quarters of 2023, Carvana posted best-ever quarterly GPU and adjusted EBITDA performances, and our continuing performance so far this quarter has led us to raise our Q3 outlook," Carvana chief financial officer Mark Jenkins said in a news release. "Our strong execution is continuing to drive lasting business improvements, including significant fundamental gains in retail and wholesale GPU, that will power future results."
Along those lines, Carvana said in presentation slides from the J.P. Morgan Automotive Conference on Wednesday that the ADESA platform "has grown since our acquisition, and our teams are making significant progress leveraging the ADESA footprint to drive efficiencies in Carvana's wholesale vehicle sales."
The company's wholesale marketplace unit sales were up 2% year-over-year in the first quarter, then climbed 18% in the second quarter. Carvana is forecasting 8% to 12% growth in Q3.
Wholesale gross profit per unit (non-GAAP) reached $1,236 in the Q1, up from $229 a year earlier. For the second quarter, it climbed from $520 to $1,228.
Carvana is projecting wholesale GPU (non-GAAP) in the range of $800 to $1,000 for Q3, compared to $681 a year ago.
The company said in the slides that it sources and sells approximately 30% as many wholesale vehicles as "the largest U.S. dealer wholesaler." That ratio was less than 10% in 2019.
"We see a significant opportunity to expand our wholesale offering to serve more individual and dealer customers," Carvana said in its slides.
Stay tuned for more on this wholesale growth in an upcoming story.
As for the retail GPU, Carvana said it has "made significant fundamental gains" since full-year 2021 that help retail GPU, "and we see further opportunities from here."
By the end of the year, Carvana is targeting having reached retail GPU fundamental gains between $600-1,110 since full-year 2021.
The company said $300-500 would come from lower reconditioning and transport costs, $100-200 from expanded customer sourcing and $200-400 from additional revenue streams.