Carvana hits trio of records in Q2, announces transaction support agreement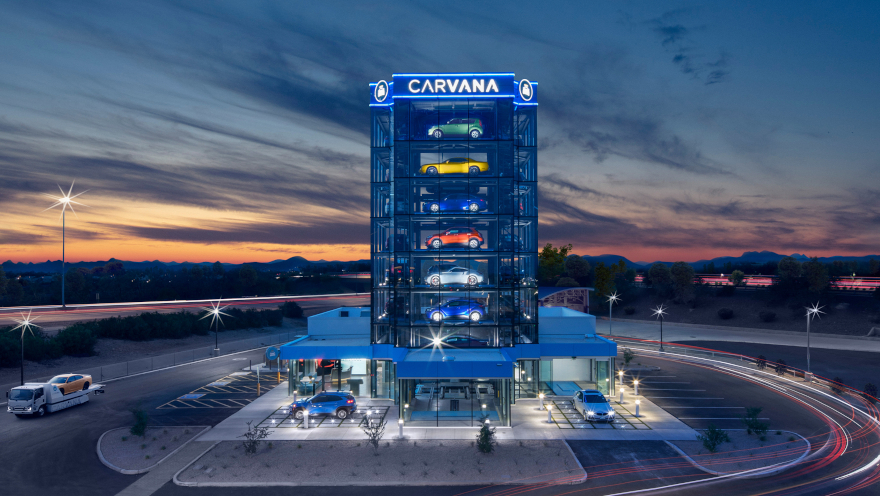 Carvana has had its share of bumps in the road in recent months, but Wednesday marked a pair of big wins for the online used-car retailer.
In addition to announcing its strongest quarter ever for adjusted EBITDA, adjusted EBITDA margin and total gross profit per unit, Carvana said it has signed a transaction support agreement with noteholders who represent more than 90% of the aggregate principal amount outstanding of its senior unsecured notes.
"The strong performance of our business in 2023 presented an opportunity for an impactful and win-win transaction for Carvana and its senior unsecured noteholders," Carvana chief financial officer Mark Jenkins said in a news release.
"This transaction significantly increases our financial flexibility by reducing our total debt, extending maturities, and lowering near-term cash interest expense as we continue to execute our plan of driving significant profitability and returning to growth."
The company's record quarter included total gross profit per unit of $6,520, an all-time high and a 94% increase over the second quarter of 2022. That total GPU was also 27% higher than the prior record.
Carvana's adjusted EBITDA margin came in at a record high of 5.2%, which is 10.8% stronger year-over-year and beating the prior record by 1.6%.
The company also anticipates reaching positive adjusted EBITDA again in the third quarter, which would be two in a row.
"Carvana performed exceptionally well in the second quarter and set company records for adjusted EBITDA and gross profit per unit, which was up 94% year-over-year, all while continuing to lower expenses," CEO Ernie Garcia said in a news release.
"Our strong execution has made the business fundamentally better, and combined with today's agreement with noteholders that reduces our cash interest expense and total debt outstanding, gives us great confidence that we are on the right path to complete our three-step plan and return to growth."