Carvana Launches 100 Percent Online Used-Car Retailer in Atlanta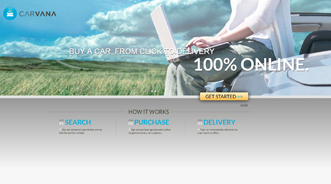 ATLANTA -
With technology advancing and new programs and offerings being launched daily in the mobile and digital world, it is hard to find something you can't do online these days. Customers can ever browse, finance and buy a car entirely online.
Carvana, backed by DriveTime, has launched a completely online car retailer in Atlanta, touting what it calls a convenient car buying process as well as next-day delivery.
With a focus on mid-market and luxury vehicles, Carvana will launch its services in the Atlanta metropolitan area.
That said, with physical plant operations in Winder, Ga., the company contends it has the capacity to serve cities throughout Georgia and the surrounding five states.
The company also said it plans to expand rapidly across the U.S.
"We have the ambition and fresh perspective of a start-up paired with the experience, infrastructure, and knowledge gained from our prior work and partnership with DriveTime," says Carvana president, Ernie Garcia. "We are excited to introduce an entirely new concept into the car industry and breathe new life into the car-buying experience."
The Winder facility currently holds an 150-car inventory with plans to increase this on a monthly basis throughout the year.
All vehicles in inventory are less than three years old and include an Experian Autocheck report, officials said.
In addition, a majority of the vehicles maintain their original manufacturer warranty and come with full disclosure of any functional or cosmetic damage.
"All Carvana vehicles are backed by a seven-day, no-questions-asked Test Buy return policy," the company stressed.
Carvana.com features high-definition 360-degree interior and exterior views, "where consumers can take a vehicle for a virtual spin."
"Carvana's online platform simplifies the financing process by allowing consumers to manipulate down payment and monthly payment options to instantly formulate a payment plan unique to them," officials explained, touching on the financing elements of the site.
The company also cited a recent survey to illustrate the increasing amount of consumers looking to buy a vehicle online.
According to a survey conducted by Accenture's Automotive Industry Group, 88 percent of potential car buyers want clearer online pricing and 94 percent would consider purchasing a car entirely online, from search to delivery.
Continue the conversation with Auto Remarketing on both LinkedIn and Twitter