Carvana launches tool allowing consumers to track value of their own vehicles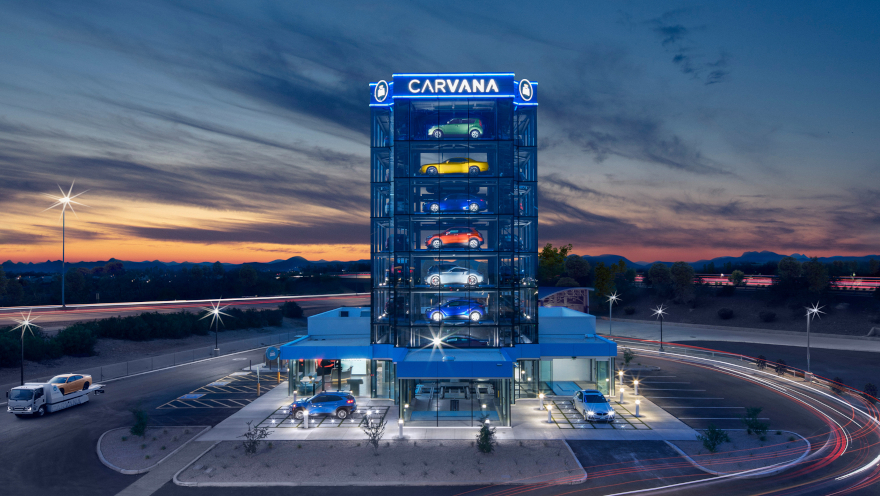 Carvana has launched a tool that allows consumers to quickly obtain a valuation on their vehicle and track that car's value as market conditions change, the online retailer said Tuesday.
Carvana Value Tracker uses the company's proprietary technology and competitive market data to provide the consumer with up-to-date information on what their vehicle is worth, helping them decide whether it makes sense to sell the vehicle.
"We understand that selling or trading a car can be a daunting task, especially when it comes to determining your car's value, and this free tool is designed to make it easier," said Andrew Dickerson, who is Carvana's director of engineering and special projects, in a news release.
"The car in a customer's driveway is likely one of the largest assets in their portfolio, and yet most have no idea at any given moment what that asset is worth," Dickerson said. "With Carvana Value Tracker, we are demystifying car selling by offering insight into a customer's car's value at any point in time, in a way that is actionable should they choose to sell."
The tool determines the vehicle by leveraging the company's "Sell to Carvana" platform, utilizing nearly 20 third-party sources, Dickerson told Auto Remarketing in an interview last week.  It pulls fresh data from those third-party sources to track the value over time.
Dickerson said the tool does not use data from the company's ADESA auto auction business unit. The tool only uses data from Carvana or third parties.
When it comes to attributes unique to a specific vehicle, like condition or accident history, Dickerson said in the interview, "A lot of our pricing is based on what we can pull from third-party (sources) around accident history, title and record changes, that sort of thing.
"But we also still allow the customers to come and update things that have potentially changed. There's a short questionnaire that you fill out when you sign up for the Value Tracker, just like you fill out when you get an offer from us, that tries to track some of those maybe less-specific third-party resources that you're evaluating your own vehicle."
A car owner can track the competitive value of their car by entering the vehicle details (license plate, postal code, mileage, etc.) into the Carvana Value Tracker tool, which then generates a customized value on the car.
The consumer can then continue to track that car's value. Carvana will periodically inform the owner of the car's value as market conditions change.
"Right now, we send it monthly. We're still trying to dial in and figure out what the right cadence is of knowing your value far out from when you might be planning to sell your car. But (we) recognize that some people might be in the near term looking to (sell their vehicle)," Dickerson told Auto Remarketing. "Customers can always come back and put in a new mileage and get an updated value right then."
He said Carvana will be launching a feature soon that will allow for biweekly updates.  Carvana Value Tracker is available now through the company's website and mobile app.
"Going forward, (the goal) is to continue to roll out and improve the insights that we offer. Because part of this tool is not just a value that updates, but also (informing the customer about) 'what is the rest of the market doing? What are the values or offers that we're giving everybody else in your local area?'" Dickerson said. "We'll continue to make those a little bit more specific to your specific vehicle, as far as mileage goes, removing outliers, that sort of thing. And then provide more ways to give better insights to the user."
And providing such insights is one of the perks for Carvana in launching the tool. In addition to helping with retaining existing customers, Dickerson said Value Tracker can be an avenue to engage new customers, who may not be wanting to buy and sell, but just want to track the value of their vehicle.