Carvana now in position for 'significant financial flexibility'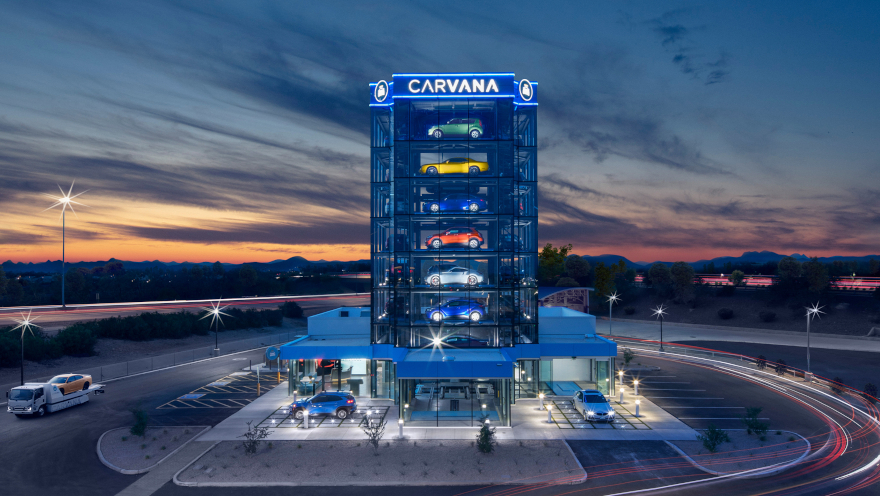 Carvana has ended August in a position to have a lot more breathing rooming financially.
The online used-car retailer said Thursday it has completed its previously announced debt exchange with more than 96% of noteholders.
This gives Carvana "significant financial flexibility as it continues to execute its profitability and growth plan" through cutting total debt by more than $1.325 billion, extending maturities and cutting near-term cash interest expense by over $455 million annually the next two years.
Carvana explained more in a news release: "In the Exchange Offers, holders had the opportunity to exchange their outstanding 5.500% Senior Notes due 2027, 5.875% Senior Notes due 2028, 4.875% Senior Notes due 2029 and 10.250% Senior Notes due 2030 for three tranches of new senior secured notes.
"The company further announces the expiration and completion of its concurrent cash offer (the 'cash tender offer' and, together with the exchange offers, the 'offers') to purchase any and all of the company's outstanding 5.625% senior notes due 2025. The settlement of the offers is expected to occur on Sept. 1, 2023, unless extended or terminated and subject to certain terms and conditions."
More details can be found here.
This greater financial flexibility comes just weeks after Carvana said it was projecting a stronger third quarter in certain key metrics.
The company had initially projected positive adjusted EBITDA for the third quarter and has now updated that to an outlook for adjusted EBITDA above $75 million.
Carvana also now anticipates non-GAAP total gross profit per unit of more than $5,500 for the third quarter, up from the initial forecast of more than $5,000.
"In the first two quarters of 2023, Carvana posted best-ever quarterly GPU and adjusted EBITDA performances, and our continuing performance so far this quarter has led us to raise our Q3 outlook," Carvana chief financial officer Mark Jenkins said in a news release earlier this month. "Our strong execution is continuing to drive lasting business improvements, including significant fundamental gains in retail and wholesale GPU, that will power future results."
Along those lines, Carvana said in presentation slides from the J.P. Morgan Automotive Conference in August that the ADESA platform "has grown since our acquisition, and our teams are making significant progress leveraging the ADESA footprint to drive efficiencies in Carvana's wholesale vehicle sales."
The company's wholesale marketplace unit sales were up 2% year-over-year in the first quarter, then climbed 18% in the second quarter. Carvana is forecasting 8% to 12% growth in Q3.
Wholesale gross profit per unit (non-GAAP) reached $1,236 in the Q1, up from $229 a year earlier. For the second quarter, it climbed from $520 to $1,228.
Carvana is projecting wholesale GPU (non-GAAP) in the range of $800 to $1,000 for Q3, compared to $681 a year ago.
The company said in the slides that it sources and sells approximately 30% as many wholesale vehicles as "the largest U.S. dealer wholesaler." That ratio was less than 10% in 2019.
"We see a significant opportunity to expand our wholesale offering to serve more individual and dealer customers," Carvana said in its slides.