Carvana unveils race car for Daytona & prize package for 2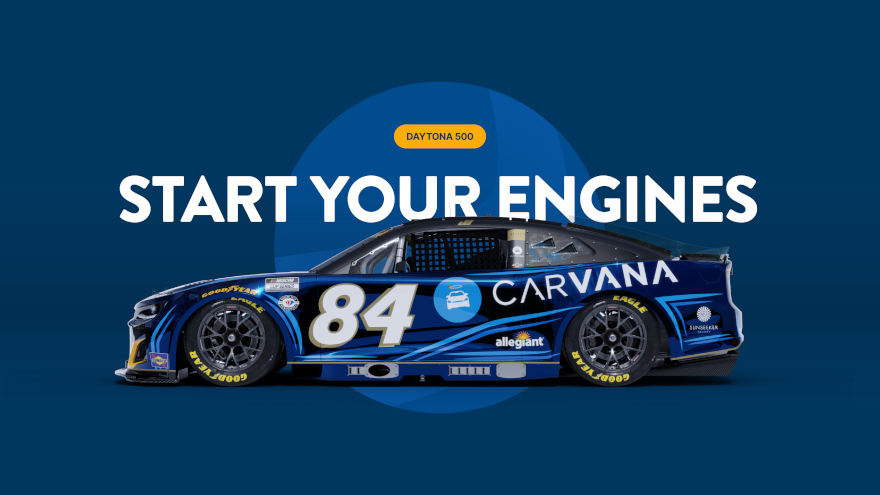 Carvana might be having its well-documented retail and stock price challenges, but the online used-vehicle retailer still is getting set for the Daytona 500.
On Thursday, Carvana announced a new nationwide sweepstakes, offering the VIP treatment with seven-time NASCAR champion Jimmie Johnson as he returns to Daytona Beach, Fla., for one of the biggest races of the year.
Also debuting is Johnson's new paint scheme, championing No. 84 as a detailed homage to his storied racing career, now under the newly minted Legacy Motor Club banner.
Running through Jan. 23, fans can follow Carvana Racing on social media (@carvanaracing) and enter for a chance to win a grand prize package that includes:
—Two VIP experiences in Daytona Beach
—Two round trip flights
—Lodging for two
—$500 food and beverage credit
—Meet and greet with Jimmie Johnson
Holding fast to the #NoFinishLines mantra, Carvana is supporting Johnson in his latest racing endeavor, intent on bringing the brand's forward-thinking approach to fan engagement to stock car racing, just as it has over the last two INDYCAR seasons.
"We're excited to be cheering Jimmie on as he heads back to NASCAR for the Daytona 500," Carvana co-founder and chief brand officer Ryan Keeton said in a news release.
"The entire Carvana crew is inspired by his commitment and his determination to continue hurdling new challenges. We're proud to champion Jimmie's passion and dedication to the sport, and we're looking forward to supporting his racing endeavors in 2023," Keeton went on to say.