Charity roundup: Actions by America's Car-Mart, AutoNation, NextGear Capital, Rick Case Automotive Group & TrueCar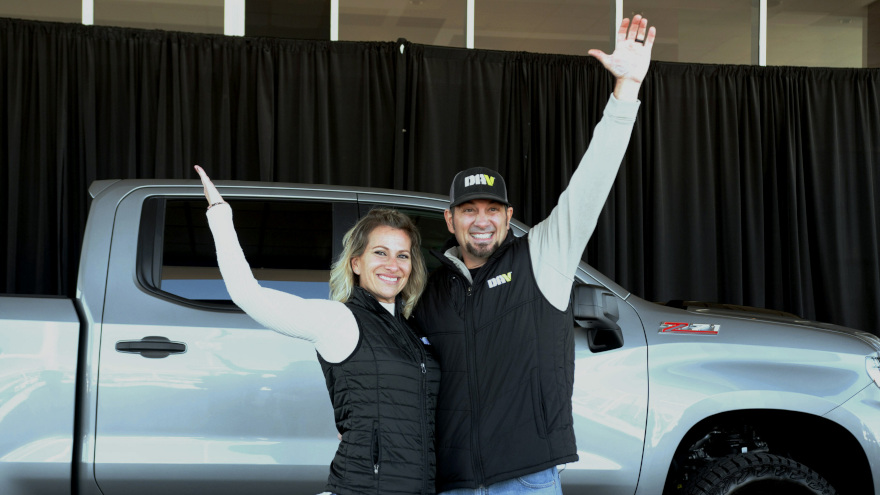 With Veterans Day just passing and the holiday season straight ahead, a variety of automotive enterprises intensified their philanthropy endeavors.
Starting with a celebration of the military, TrueCar, in partnership with Disabled American Veterans (DAV) and AutoNation, awarded U.S. Army veteran Adam Greathouse of West Virginia with a new vehicle through its DrivenToDrive initiative.
Through a news release, TrueCar recapped the veteran's trauma while on active duty.
In 2001 while deployed to Kosovo, Greathouse suffered a severe traumatic brain injury and major damage to his lungs and other internal organs, which he believes was the result of exposure to residual chemical weapons. He was in a coma for two months. The aftermath left him in deep depression for nearly a decade.
That situation changed when DAV came into his life and he started giving back to other veterans, renewing his sense of purpose. He has since volunteered more than 5,000 hours at the Hershel "Woody" Williams VA Medical Center in West Virginia.
Greathouse was named the DAV Freedom Award recipient at the 2017 National Disabled Veterans Winter Sports Clinic and was named the organization's 2020 Disabled American Veteran of the Year. He currently serves as the state-level commander of the DAV Department of West Virginia.
To honor his bravery and commitment to others, Greathouse was presented with a new Chevrolet Silverado at a TrueCar DrivenToDrive event. The new vehicle will help ensure he can continue his important service and volunteer work.
"I'm so thankful to the TrueCar team for choosing me for this honor," Greathouse said in the news release. "Serving other veterans is what drives me, and I feel relieved knowing that I'll have a reliable car to help me in my service to those who face the same challenges I did."
TrueCar's DrivenToDrive program was started in 2017, inspired by Army Ranger and DrivenToDrive ambassador, Cory Remsburg, who was severely injured while serving in Afghanistan.
"It's a privilege to celebrate Army veteran Adam Greathouse, who sacrificed so much for his country and continues to serve his fellow veterans," TrueCar president and CEO Jantoon Reigersman said. "We're honored to be able to help him further this great mission and, with all the driving he does for his volunteer work, award him with a new vehicle through our partnership with AutoNation."
The program is designed to honor the sacrifices made by the members who serve and their families by supporting their mobility needs.
The truck given by Greathouse marks the 10th consecutive vehicle awarded through DrivenToDrive.
"AutoNation is proud to partner with TrueCar for the 2023 DrivenToDrive program. We are deeply honored to recognize the remarkable service of Adam Greathouse and to present him with a brand-new vehicle," AutoNation chief marketing officer Rich Lennox said in the news release. "It's a privilege to be part of a program that recognizes the sacrifices made by our service members and their families."
Barry Jesinoski is chief executive officer and national adjutant of DAV.
"DAV is thrilled for Adam to receive this much-deserved recognition as an outstanding member-leader and volunteer," Jesinoski said. "TrueCar's DrivenToDrive initiative provides life-changing support and independence for deserving veterans like Adam. We are immensely grateful for TrueCar's dedication to DAV's mission and America's heroes."
For more information about DrivenToDrive, its mission, past recipients, and ways to get involved, visit https://www.truecar.com/driventodrive/.
NextGear Capital helps Gleaners Food Bank of Indiana
Delayed by supply chain issues that have impacted so much of the transportation sector, Gleaners Food Bank of Indiana recently took delivery of a new refrigerated box truck just in time for the holidays.
Gleaners purchased the truck earlier this year with a $150,000 grant from the James M. Cox Foundation, the charitable arm of Cox Enterprises, parent company of Cox Automotive, and named after the company's founder.
The truck is co-branded between Gleaners and NextGear Capital.
According to a news release from the floorplan provider, Gleaners is still serving pandemic-levels of families in need, distributing more than 99 million meals in 2023, putting a strain on the organization's aging fleet of box trucks, which log more than a quarter million miles each year.
"The addition of this truck to our fleet expands our ability to distribute, at minimum, 80,000 additional meals to neighbors in need," Gleaners resident and CEO Fred Glass said in the news release. "Because of the expansive area we serve, we rely heavily on our fleet of trucks to transport large volumes of food, particularly fresh fruits and vegetables, frozen meats and highly desired dairy items."
The James M. Cox Foundation has provided support to Gleaners multiple times over the years.
In 2017, the Foundation donated $150,000 to the Gleaners Building Hope campaign to fund the expansion of the organization's Community Cupboard on-site food pantry.
And when the pandemic shut down schools and workplaces in 2020, making access to nutritious food even more challenging, the Cox charity division funded two $25,000 grants that helped the food bank provide up to 125,000 nutritious meals for those in need.
In total, the James M. Cox Foundation has given $350,000.
"Gleaners Food Bank holds a very special place with us because of the meaningful work they do to feed those in need throughout Indiana," NextGear Capital president Scott Maybee said. "Every year, our teams look forward to volunteering at Gleaners, from loading vehicles with meal items for families struggling with food insecurity to organizing and hosting fundraising events."
Since its inception in 2005, NextGear Capital has given back nearly $3 million to local communities, benefiting up to 79 nonprofits each year.
America's Car-Mart launches 15th annual Holiday Toy Drive
They're certainly not playing at America's Car-Mart when it comes to collecting toys for sick children.
The buy-here, pay-here dealership chain recently announced the start of its 15th annual Holiday Toy Drive.
Car-Mart's Holiday Toy Drive runs through Dec. 9. Customers can drive away in a used vehicle for $699 down on select units when they bring in six new unwrapped toys (valued at $10 or more for each toy).
The company will collect toys to share with 30 children's hospitals.
More than 150 Car-Mart dealerships in its 12-state area will serve as toy donation destinations for customers and local communities.
Last year, the company collected more than 25,000 toys for 29 children's hospitals.
"For 15 years, we have conducted our Holiday Toy Drive. We are proud to have created something that is having a positive impact on thousands of children, and we are grateful for the generous donations from our associates, customers, and partners," Car-Mart chief executive officer and president Doug Campbell said in a news release.
"Seeing the joy on children's faces during the holiday season makes our efforts worthwhile, and we consider it our legacy. We look forward to continuing this wonderful tradition for many, many years," Campbell continued.
According to medical researchers, toys are crucial for children in hospitals. Toys provide a source of joy during difficult situations, help reduce stress, distract from their current situation, and may even speed up the healing process.
"We owe the success of our toy drive to our dedicated and hardworking associates. Their passion for helping people is evident in all their actions," Campbell said. "As always, we can't wait to deliver the toys to the kids. We hope the toys bring smiles to children in hospitals year-round."
The company also welcomes anyone who is not intending to make a vehicle purchase to donate new, unwrapped toys as part of its Holiday Toy Drive. Toys can be dropped off Monday through Saturday from 9 a.m. to 6 p.m. at any Car-Mart Location.
For more information, and to track Car-Mart's toy collection, visit the Holiday Toy Drive 2023 website.
Annual Rick Case Bikes for Kids
For more than 40 years, kids have been receiving gently used bicycles donated from the local community during the holidays through the annual Rick Case Bikes for Kids.
The following eight Rick Case Automotive Group dealerships in South Florida will accept new and gently used bike donations from now through Dec. 13.  The stores include:
—Rick Case Honda / 15700 Rick Case Honda Way (I-75 at Griffin Road), Davie
—Rick Case Acura / 875 North State Road 7 (on 441 at Sunrise), Fort Lauderdale
—Rick Case Hyundai / 925 North State Road 7 (on 441 at Sunrise), Fort Lauderdale
—Rick Case Hyundai / 3550 Weston Road (I-75 Auto Row), Davie
—Rick Case Honda Cycles / 15701 Rick Case Honda Way (I-75 at Griffin Road), Davie
—Rick Case Fiat, Alfa Romeo & Maserati / 3500 Weston Road (I-75 Auto Row), Davie
—Rick Case Volkswagen / 3520 Weston Road (1-75 Auto Row), Davie
—Rick Case Kia / 14500 W Sunrise Blvd, Sunrise (Sunrise at the Sawgrass Expressway)
Since 1982, Rick Case Bikes for Kids has collected more than 125,000 bikes and distributed them to kids in South Florida communities who wouldn't otherwise be able to afford a bike.
The bikes are donated to children through the Boys & Girls Clubs of Broward County and other local charitable organizations, churches and schools, just in time for the holidays.
"The kids love it, and we love it," said Rita Case, president and CEO of the Rick Case Automotive Group. "Many of the kids are getting a bike for the first time. There's something special about the freedom that comes with riding a bike. It's our first form of transportation that we control. Bikes provide not only fun and enjoyment, but also promote independence and inspire a healthy lifestyle."
For more details, visit RickCase.com.