City recognizes Cox Enterprises' sustainability efforts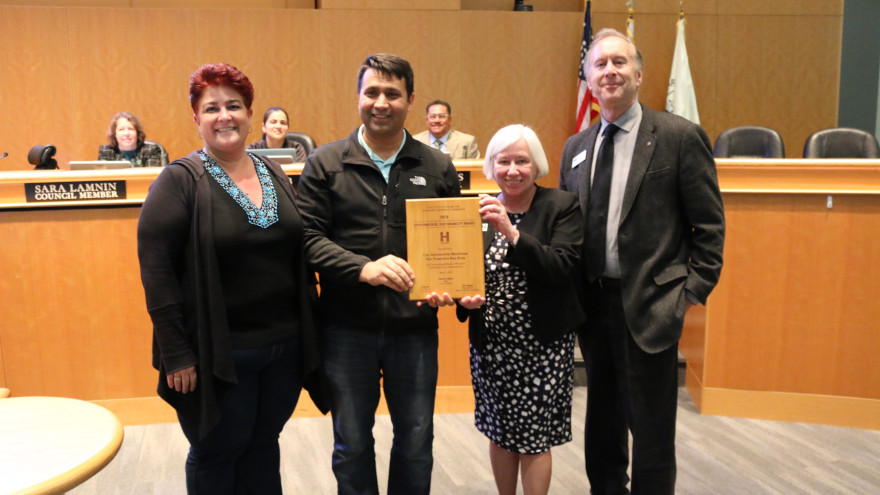 ATLANTA -
Sending zero waste to landfill by 2024. That's a goal for Cox Enterprises, and the company also wants to be water/carbon neutral by 2044.
Manheim San Francisco Bay, a Cox Enterprises company, has worked on several initiatives to reach those goals. Now, the City of Hayward, Calif., has recognized the company's efforts.
The auction has implemented paperless billing and installed 630 solar panels. It has converted all of its indoor and outdoor lighting to LED. Manheim has also strived to increase the amount of waste diverted from landfill. Manheim San Francisco Bay reports that its current diversion rate is 80 percent.
The City of Hayward named Manheim San Francisco Bay one the winners of its 2019 Environmental Sustainability Awards. The city recognizes the winners for their sustainability efforts in conserving water and energy, reducing waste, encouraging recycling and enacting environmental programs or policies.
"From creating recycling and composting initiatives, to installing LED lighting and encouraging alternative transit, we believe strongly that our collective actions can make a big difference," Cox Automotive Manheim San Francisco Bay general manager Greg Beck said in a news release. "We're proud to be recognized by the City of Hayward for these efforts, and we'll continue looking for more ways to be good stewards of the environment and impactful citizens of Hayward,"
In related news, Cox Enterprises, together with entrepreneur network Techstars, launched a program that they say will fund and support startups that address social and environmental challenges. Called Cox Enterprises Social Impact Accelerator, powered by Techstars, the program will help with what Cox Enterprises says is its "long-standing commitment to building businesses that support local communities and the environment."
"Income inequality, cleaner sources of energy and sustainable food production are just some of the challenges we're all facing," said Alex Taylor, president and chief executive officer of Cox Enterprises.
Taylor added, "Our company wants to invest in the future and empower great people to create a better future for the next generation. Investing in startups and accelerators like Techstars helps do that."
The new three-month accelerator is set to start in January 2020. Cox Enterprises says that for 10 for-profit, mission-driven companies working to address social and environmental problems, the program will provide hands-on mentoring, funding and global connections.
Cox business leaders and experts will help entrepreneurs boost their early-stage businesses and grow their networks. At a Demo Day presentation in April 2020, those leaders and experts will also prepare entrepreneurs to pitch their companies to potential investors, Cox leaders and community members.
Cox says that because the accelerator will run each year for the next three years, 30 different startups will have the opportunity to participate in the program.
Cox says the accelerator will help attract entrepreneurs from around the world to Atlanta, which the company calls "a growing hub for innovation and technology."
Cox and Techstars partnered in 2016 to launch Techstars Atlanta. In the past three years, Cox has already supported 30 Techstars companies. Half of those companies have stayed in Atlanta.
Cox also funds and supports startups and entrepreneurs through Atlanta-based partnerships in addition to Techstars. Those include Engage, Endeavor and Startup Runway.
"Startup entrepreneurs who are trying to fundamentally solve big problems in innovative ways will feel right at home working with Cox mentors and leadership," said Maury Wolfe, senior director of corporate social responsibility and public affairs at Cox Enterprises. "Social responsibility is embedded in our business strategy here at Cox. It's why we are making key investments like Techstars that both drive innovation and enhance our communities."
Cox Enterprises is investing in Atlanta's startup ecosystem, but it also supports its local communities and reduces its own environmental footprint. One example is that through Cox companies and the James M. Cox Foundation in 2018, the company has given more than $123 million in total cash and in-kind giving. To meet its goal mentioned earlier on sending zero waste to landfill by 2024 and becoming water and carbon neutral by 2044, the company according to its CSR annual report has so far offset 567,000 tons of carbon, saved 276 million gallons of water and diverted 170,000 tons of waste from landfills.