Connected car's potential in pre-owned market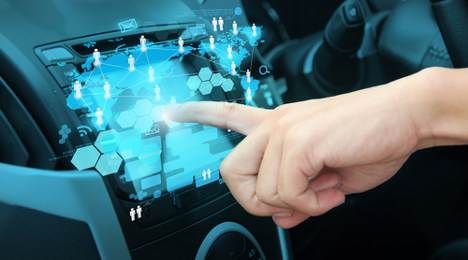 CARY, N.C. -
When Dev Bhatia goes to pick up his children, there's no need to lay on the horn or text back-and-forth.
Dad pulls the car into the driveway and the kids automatically receive a notification on their phone.
This happens through the use of connected-car technology from CalAmp, where Bhatia is senior director of product management.
What once sounded futuristic is now becoming more common in the used-car market, particularly as connectivity and cloud technology advances.
For example, a partnership announced in September between Cox Automotive and cloud platform Vinli gives dealers the ability to take used cars without connectivity and make them smart cars.
Dealers can use this technology to monitor cars on their lots, sell used vehicles with aftermarket connected car capabilities and communicate with customers on retention programs. Their Connected Dealership Program includes three key customizable functions: lot management, retail connectivity as an aftermarket product and service retention.
And with increasingly more new cars coming equipped with connective features, the thinking is, eventually the entire used-car market could be comprised of vehicles with built-in connectivity, says Scott Frank, vice president of marketing at Airbiquity.
"Until then, there will be a mix of unconnected and connected vehicles in the used-car channel, and we'll see numerous firms attempting to 'upgrade' the unconnected vehicles with aftermarket devices like OBD-II 'dongles,' dashboard cameras, recorders integrated into smartphones, and other types of services delivered from the cloud," Frank said in an emailed Q&A.
"How successful these business ventures will be in terms of profitability is still unclear — but what is clear is many companies do believe there's business and consumer value creation for taking a shot at the opportunity," said Frank, whose company is a provider of vehicle tracking systems, telematics, OTA updates and connected car systems.
Dealers in the used-car space are at the forefront of this business opportunity to turn non-connected used cars into connected cars.
That opportunity is particular bright for franchised dealers, Frank said.
"Auto dealers directly associated with automakers will have a distinct advantage when it comes to making aftermarket connectivity work because they are intimately aware of the vehicle products, platforms, and systems; can efficiently integrate new technology into the vehicle as an extension of current service capabilities; and have existing relationships with the vehicle owner who will decide and pay for any incremental technology and services that go into their cars," he said.
"Additionally, auto dealer connectivity upgrades could be warranted by the automakers in some cases, and economies of scale introduced by leveraging automaker procurement and supply chain relationships," Frank said.
Going back to CalAmp, the Southern California-based aftermarket GPS manufacturer, acquired LoJack, a stolen vehicle recovery system, earlier this year.
In September, it revealed LotSmart by LoJack — a telematics service for dealerships — and SureDrive by LoJack, a connected car mobile application for consumers.
On the buy-here, pay-here slice of the consumer side is SkySmart, which lets BHPH dealers sell connected car technology to its customers, and is "built on top of telematics devices that are sold for vehicle finance," Bhatia said.
"Part of what we saw as opportunity is both at the dealerships, at the large dealerships whether they're new or used, at the auction lots, there is an inventory control and management problem. We see that and we know that telematics and GPS can help address some of the real basic challenges. It's actually a real simple problem for telematics to play a role," Bhatia said. "But then more importantly, how do you also take telematics into the consumer space? And that's what SkySmart is. So these are products that kind of are interlinked. And one helps the other.
"In our minds, we didn't see it as a point solution. We saw it as, how can telematics provide benefits across the vehicle lifecycle, from auction to lot to the consumer?" he said. "And even past the initial purchase, how can you continue to provide value. That was our grand vision."
When asked about the differences between how the industry might use connected car technology versus how consumers might use it, Bhatia said: "I think there are a lot of benefits that do overlap. 'Find my car,' is an example. Where it's the same platform, same device installed in the car that can serve both clients with the exact same function. But each has got subtle differences … the buy-here, pay-here market, that dealer is driven by revenues. And one of the challenges of his business is risk.
"And so he sees the GPS device as way to mitigate risk. And it obviously has great benefits in enabling him to do that. We see it as an opportunity to, once you've addressed the risk factors, how can you make more money?" Bhatia said. "You're the dealer, you're goal is to mitigate risk and make more profit. And one way to do that now is to take that same GPS device that you purchased to mitigate risk and now make some more money of off that. And the way you do that is by selling connected car benefits to the consumer."
"Given where we are in the market, I think most consumers now, they've seen ads for some of the larger brands out there that have connected car benefit," he said. "So they get it. They know what a connected car is. And part of their problem is, how does an aftermarket vehicle that is maybe not a brand new vehicle coming off the factory floor, how can it become a connected car? And there's a way. And then we provide that with SkySmart."