Consumer satisfaction soars despite mounting credit issues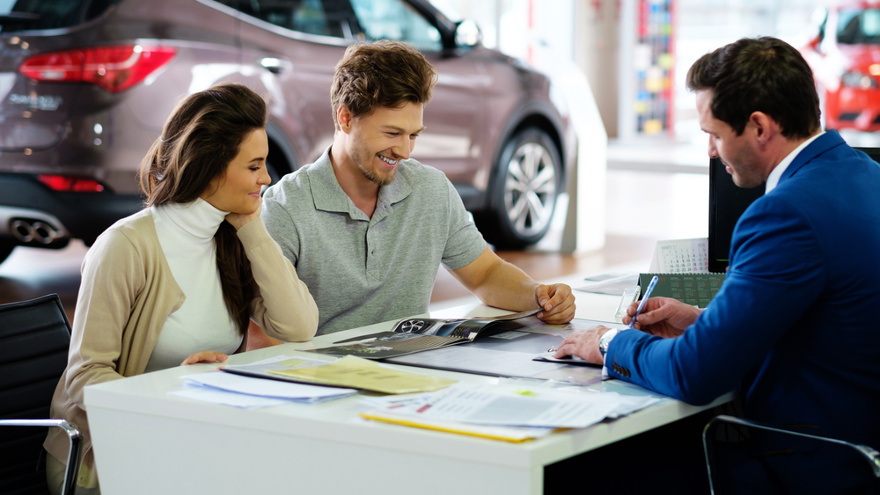 Customer satisfaction with the vehicle purchase process rose to a record high in May even as rising interest rates loomed as a potential problem, according to research by CDK Global.
CDK's Ease of Purchase Scorecard for May showed consumer satisfaction hit 84%, matching the highest percentage recorded for the monthly survey of 350 consumers who purchased new vehicles within the past three months.
In addition, 72% percent of car buyers said they found the car they wanted in stock and in transit, up from 70% in April, though it took some legwork to find the right vehicle. Only 26% visited one dealership before buying compared to 30% the previous month, while nearly 48% visited two stores – an increase from 44%.
Tighter credit and rising interest rates are becoming a growing obstacle to vehicle purchasing.
In May, the percentage of buyers who said the credit application process was easy dropped to 58% after reaching 63% in March and April. And buyers had a slightly tougher time agreeing to a final price, with 41% of respondents saying that process was difficult, up from 40%.
"With inventories rebounding in spots and the purchase process still relatively easy, it's important for dealers to stay on top of new issues," CDK Global automotive industry analyst David Thomas said in a news release. "Shoppers dreaming about a new car for summer travel may need to shape up their credit in order to make that big purchase a reality."
Other findings from the survey include:
Time spent at the dealership fluctuated only slightly in May. While the percentage of respondents who said the buying process took less time than expected fell from 19% in April to 16%, that was offset by an increase from 46% to 49% in those who said it was what they expected.
70% of customers said it was easier to locate the vehicle they hoped to purchase, improving from 67% the previous month.
Agreeing to a trade-in value was easier in May, creeping past April's 50% satisfaction mark to 51%.
For more about the survey results, visit www.cdkglobal.com/insights/credit-struggles-dont-dent-ease-purchase-score-may.