Consumers' top dream cars based on movies & more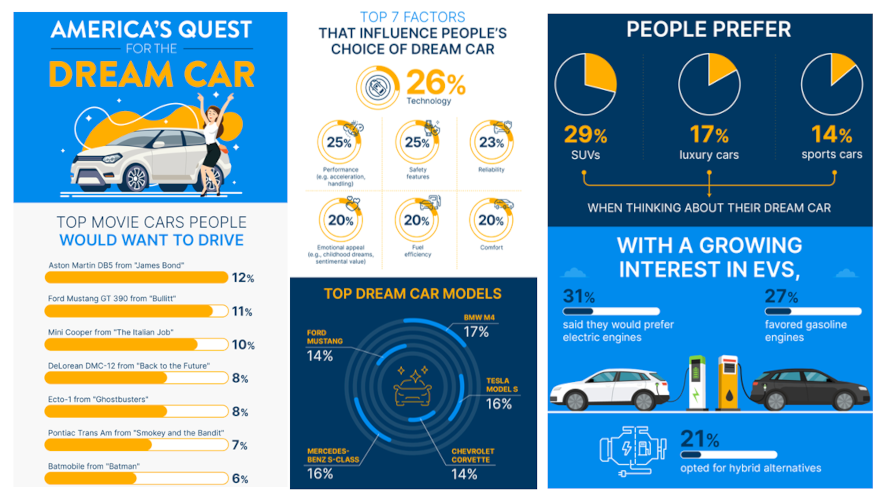 With some of the most anticipated movies of the summer now in theaters, new survey data collected by OnePoll on behalf of Carvana highlighted what 2,000 respondents said about their dream car that they might have first spotted on the Silver Screen or elsewhere.
The survey showed one in three respondents (33%) starting to nurture their dream-car aspirations at an early age.
So which vehicle is most coveted?
According to a news release, respondents cited James Bond's beloved Aston Martin DB5 as their favorite car from a movie (12%) followed by the Ford Mustang GT 390 from "Bullitt" (11%), "The Italian Job's" Mini Cooper (10%), and Dr. Brown's DeLorian DMC-12 from "Back to the Future" (8%).
Other than cars appearing in movies, the survey indicated the top three dream cars were the BMW M4 (17%), Tesla Model S (16%), Mercedes-Benz S-Class (16%), Chevrolet Corvette (14%), and Ford Mustang (14%).
The survey also found that drivers prefer SUVs (29%), followed by luxury cars (17%) and sports cars (14%).
Interestingly, survey data revealed that respondents are ready for those vehicles to come in more eco-friendly options, too, as more than half (52%) of respondents shared they dreamt of owning either a hybrid or an EV.
Black was the most popular choice (22%) followed by white (16%) and red (13%).
Almost half of the respondents (46%) have gone as far as giving their car names with the most popular being Bluebell (14%), Black Beauty (13%), and Baby (12%).
"Everyone has a dream car — whether it's something like James Bond's classic Aston Martin, a stylish, eco-friendly EV, or a black SUV equipped with all the modern safety and tech features," said Brian Boyd, senior vice president of inventory at Carvana.
The survey results also showed technology (26%) was the leading factor that influenced people's dream car followed by performance (25%), safety features (25%), reliability (23%) and emotional appeal (20%).
More than 40% of survey respondents said they would pay north of $100,000 for their dream car if necessary.
Additionally, six out of 10 respondents aspire to own their dream car over their dream home, as emotional attachment to cars grows stronger.
"These days, people want something that is smart, efficient, and dynamic. Best of all, now finding one's dream car is easier than ever. Every Carvana customer gets the same access to the convenient, transparent shopping experience and a nationwide selection of great vehicles," Boyd said.