Cox Auto & Westlake Financial involved in Uber's latest programs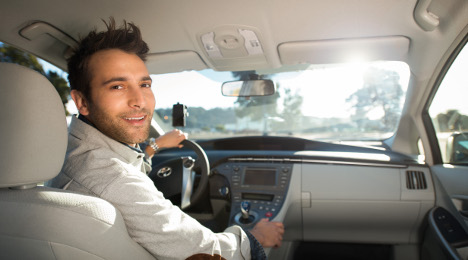 SAN FRANCISCO -
Cox Automotive and Westlake Financial Services are among the companies involved in overhauled and pilot programs to provide vehicles for Uber, the online transportation service provider that's grown in popularity in some of the largest U.S. metro areas.
Uber explained this week that its revamped leasing program for its network of drivers dubbed Xchange Leasing is an option administered by a subsidiary and designed to fit with the flexibility that drivers value most.
Officials called the Xchange lease "one of a kind," and offers value they believe traditional vehicle lease terms do not provide.
Unlike most multi-year leases that have high fees for early termination, Uber indicated drivers who participate in Xchange for at least 30 days will be able to return the vehicle with only two weeks' notice and "limited" additional costs.
The company added its program allows for unlimited mileage and the option to lease a used vehicle, with routine maintenance also included.
"These features combine to create a product unlike anything on the market today," Andrew Chapin, head of vehicle solutions for Uber, said in a blog post on the company's website announcing the program.
Chapin indicated Uber first launched a vehicle solutions program 18 months ago in response to feedback from prospective driver-partners who wanted to join the Uber platform but didn't have access to a qualifying uberX car. Since then, Chapin highlighted nearly 20,000 drivers have participated in the program and collectively taken earned more than $200 million driving with Uber.
"We've learned a lot –– about when and where people drive, details about their vehicle needs, and how we can connect partners with options that work best for them," Chapin said.
"There is a lot of variability in how drivers use Uber, from the reasons they drive to the amount of time they spend on the platform. But one thing is clear: the key to flexible earnings is flexible financing," he continued.
Xchange Leasing is currently operating in major metropolitan areas in California — Los Angeles, San Francisco, and San Diego — and select cities in Georgia and Maryland. We look forward to piloting the program in additional locations soon.
Uber highlighted Xchange Leasing complements additional options currently available within Uber's Vehicle Solutions program, including:
— Discounts from automakers: Uber indicated it has expanded partnerships with OEMs to facilitate new-vehicle purchases. Participating automakers include: Toyota, General Motors, Ford, Hyundai, Nissan, Volkswagen and Chrysler. To date, participating Uber driver-partners have saved more than $7 million through these OEM discounts.
—Streamlined financing partnerships: Drivers looking for a vehicle have access to financing available through Westlake Financial Services, which offers traditional auto financing to U.S. drivers across the credit spectrum, and BAMA Leasing, which offers leases to drivers in Boston and San Francisco.
"We were introduced to the Uber team through one of our banking relationships. They recognized our adaptability and saw a fit with the new ways Uber was getting cars to its drivers," said Casey Harmon, senior vice president of corporate development for Westlake Financial Services.
"Westlake is a full-spectrum lender, so we work with everyone," Harmon continued. "We have no minimum FICO or income levels. We also work with all job and residence times, and we can work any credit mishaps that Uber drivers might have had."
— Rental pilot: Uber added that some drivers want to rent a vehicle when and where they'd like to drive, instead of leasing or buying one. As a result, Uber is working with Flexdrive, a Cox Automotive company, to pilot a weekly rental option in Atlanta, Dallas, and Nashville, Tenn.
Drivers can rent an uberX-eligible vehicle on a weekly basis, with insurance and maintenance included.
"We hope to make rental options available in more cities in the future," Chapin said.
"We're excited about how these new solutions meet drivers' unique needs, and offer more and better choices and greater flexibility than ever before," he went on to say.