Cox Automotive, Holman start joint venture for Flexdrive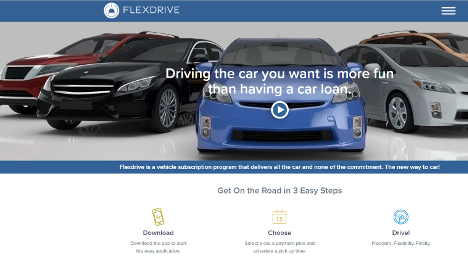 ATLANTA and CHERRY HILL, N.J. -
Flexdrive is now a joint venture.
Cox Automotive has entered into a joint venture with Holman Enterprises that, essentially, takes its Flexdrive vehicle subscription platform from an incubator to the mainstream, the company explained Thursday.
With the joint venture, each will have a 50-percent ownership stake in Flexdrive, a business model that was created at Cox Automotive in 2014.
The product had been in Cox Automotive's incubator but transitioned into the joint venture early last month.
Holman Enterprises has 38 franchised dealers, a fleet management company in ARI and many other business ventures. Flexdrive of Cherry Hill, N.J., will be the first Holman franchise to provide the Flexdrive service.
"Both Holman Enterprises and Cox Automotive share an appreciation for what it means to move forward and create what consumers want today instead of fitting yesterday's solutions into today's demand," David Liniado, vice president of consumer mobility at Cox Automotive, said in a news release.
"Through this partnership, we are combining the best of both companies to give consumers a new way to satisfy their mobility needs while enabling dealers to get into the mobility market," he said.
In terms of stocking up their inventory, the joint venture will looking at all the options available throughout the enterprise, be it existing used-car dealer inventory, wholesale cars or remarketing units, a spokesperson said.
Through Flexdrive, dealers can offer "subscriptions" to vehicles in addition to their traditional leasing and buying options. The consumer can "subscribe" to a vehicle using a smartphone app and begin using the car "within minutes."
The car can be swapped out at any time.
"The modern marketplace is asking for mobility solutions, not just transportation, and we are enthusiastic about working together with Cox Automotive to meet the modern consumer's needs," Brian Bates, president and chief executive officer of Holman Consumer Services, said in the release. "At Holman, we have always been committed to providing customers with extraordinary service, and giving our customers the opportunity to 'flex' in addition to purchasing or leasing is another way we are achieving that goal."
Jose Puente will be the president of the Flexdrive joint venture.
"With Flexdrive, we are rewriting the rules of car ownership," said Puente. "It is the new way to drive a car, and fueled by the joint support of Cox Automotive and Holman Enterprises, we'll be bringing this unique offering to more markets throughout the year."
Stay tuned to Auto Remarketing as this story develops.