Cox Automotive marketing chief Kovac receives lifetime achievement award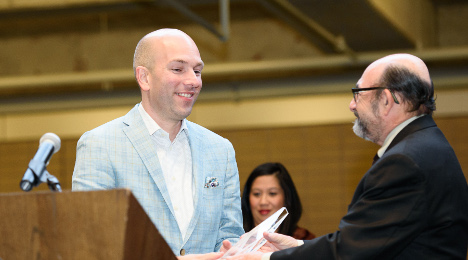 ATLANTA -
Last week, Cox Automotive executive vice president and chief marketing officer John Kovac accepted a lifetime achievement award from the Atlanta Chapter of the American Marketing Association (AMA) in recognition of his long-standing record of marketing achievements throughout his career.
Kovac was presented with his award at the 60th annual AMY Awards gala on Thursday at the College Football Hall of Fame in Atlanta.
"At Cox Automotive, we pride ourselves on teamwork and collaboration, so to me, this award represents the ingenuity and creative thinking of the hundreds of Cox Automotive marketing team members and agency partners that continue to push boundaries and innovate for our brands," Kovac said in a news release. "I am thrilled to accept this award on behalf of our entire team."
Kovac is known for his entrepreneurial spirit and his "make it happen" approach, the AMA said.
Currently, he leads more than 400 global marketing team members who are responsible for over 25 brands, including Autotrader, Kelley Blue Book, Manheim, Dealertrack and Dealer.com.
His 18-year career with Cox Automotive started when he became one of Autotrader's founding employees.
Kovac lead brand development and helped to oversee the production of Autotrader's first advertising campaign, "I Need a Car."
Autotrader became a leading car shopping site under his leadership. The third-party car shopping site currently has more than 18 million unique visitors each month, according to the AMA.
"John continually demonstrates remarkable leadership and passion in everything he does," said Sandy Schwartz, president of Cox Automotive.
"He embodies the entrepreneurial spirit that our company was built on. To have our most senior marketing leader recognized by the American Marketing Association is a tremendous honor — not just for John but for our entire organization."
The AMA's other honorees included local companies and agencies in 20 plus categories such as advertising, branding, digital marketing, analytics, market research and data visualization.
To view the full list of award winners, visit http://www.amyawardsatl.com.