Cox Automotive: Value of Harvey-damaged vehicles could reach nearly $5 billion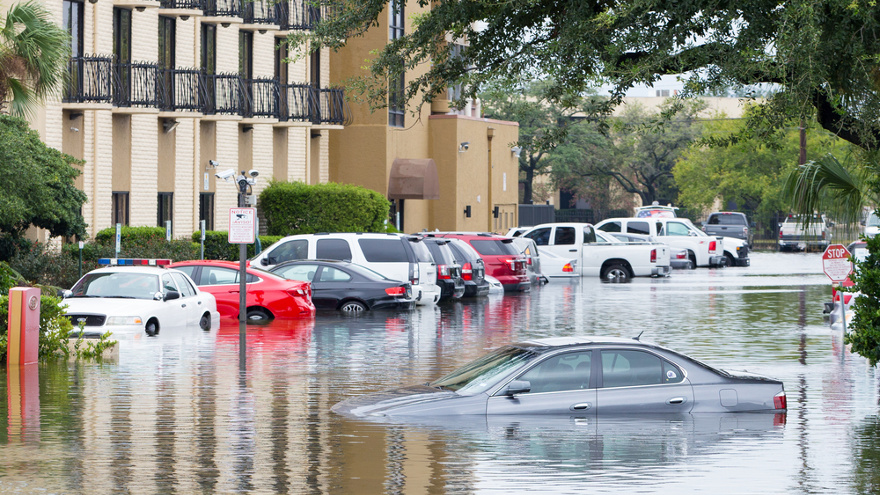 ATLANTA -
Cox Automotive chief economist Jonathan Smoke on Friday estimated vehicle losses caused by Hurricane Harvey to come in between $2.7 billion and $4.9 billion in the Houston market alone.
While that projected figure includes dealerships' used-vehicle inventory since those units are classified as vehicles in operation, Smoke indicated that loss figure could swell even more once the damage toll of new vehicles flooded at franchised dealerships is tabulated, too.
"Our hearts go out to the people of Houston and everyone impacted by the weather," Smoke said to open a conference call Cox Automotive hosted for the media before delving into the loss estimates.
Smoke reiterated his previous assessment that 300,000 to 500,000 vehicles are likely damaged just in Houston; the seventh market largest by population and eighth largest for vehicles in operation consisting of 5.6 million units.
"We reviewed damages numbers in both (Hurricane) Katrina and (Superstorm) Sandy, which were the most comparable storms. We looked at the reporting of wide-spread flooding, which more resembled Katrina than Sandy. We took into account the high vehicle density and the dependency on vehicles in Houston," Smoke said.
"Therefore we concluded that 500,000 (units) was entirely possible," he continued. "If we're correct, it would be the worst in terms of vehicle damage in history. Sandy impacted a bigger market, but the damage was not as severe, and the vehicle density was lower. Katrina had even more severe damage but in less populated, less vehicle dense and smaller area."
With so much damage likely to be recorded, Smoke delved into the wholesale volume and price ramifications likely ahead.
The record-setting streak for the Manheim Used Vehicle Value Index already reached three months in a row when Cox Automotive shared the latest reading on Aug. 7.
The report indicated wholesale used-vehicle prices (on a mix-, mileage- and seasonally adjusted basis) increased 0.75 percent month-over-month in July. This rise brought the index reading to 130.3, which was a record high for the third consecutive month and a 2.6-percent increase from a year ago.
The new high mark is more than 30 points above the index's low point of 98.0 registered in December 2008.
To project what might happen, Smoke explained that he and the Cox Automotive team went back to Manheim data recorded at the time of both Katrina and Sandy.
"Basically it behaved as you would expect," Smoke said. "If you take a step back and think, 'OK the disaster does two things simultaneously.' It decreases supply both in terms of what might have been on dealer lots in those locations, but also in terms of what would have been potential supply; cars that people might have been trading in or otherwise selling. And at the same time, it increases demand because people are needing to replace their vehicles in a very short period of time that otherwise would not have been remotely considering a vehicle purchase.
"What we've observed is you see a break in the pattern in terms if there had been continued growth in supply in the wholesale channel, sudden in the non-salvage you see flat or declining volumes for a couple of months. And related to that you typically see price strength, which makes complete sense. If there is tighter supply and stronger demand, that would amplify prices for a two to three months following the storm," he continued.
"Wholesale prices have been really strong for the last three months," Smoke went on to say. "The indicator in August was that trend was continuing so that means wholesale prices are very likely to be strong through the end of the year. Before I was sort of on the fence about whether or not that trend could continue indefinitely or whether it would reach a place and plateau. Now this effect on supply, it's likely to remain at least as strong as we've been seeing through the end of the year."
And as dealers look for inventory to meet rising consumer demand, the salvage space is likely to become even busier as Harvey-damaged units make their way into that wholesale segment.
"No question this is the biggest event in history in terms of the total volume of vehicles damaged," Smoke said. "This is going to have lingering effects on the wholesale market for some period of time in terms of increased volumes that should be going to salvage and working their way through the system. But also in terms of the industry and consumers having to deal with their own due diligence in tracking vehicles that could have been damaged but didn't get properly identified as damaged, and therefore, salvage."
Editor's note: Watch for a future report from Auto Remarketing that will highlight analysis from experts at Autotrader and Kelley Blue Book about how the damage from Hurricane Harvey will impact retail sales.