Cox presents Rising Star Award to 1st woman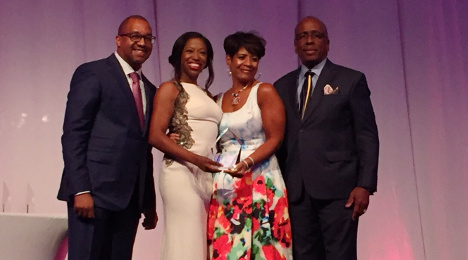 ATLANTA -
In partnership with the National Association of Minority Automotive Dealers, Cox Automotive awarded its Rising Star Award to a Kentucky general manager, in honor of her leadership and commitment to both the automotive industry and her community.
Chosen for the award is Wadette Bradford of Martin Kia, in recognition of her work expanding the brand recognition and profit margins of both new and well-established dealerships.
Cox Automotive senior vice president of talent, diversity and culture Nicole Ashe presented Bradford with her award at the NAMAD annual meeting awards dinner in Miami on Thursday.
In her role as general manager, Bradford has increased inventory turns, developed innovative digital marketing campaigns and increased service gross profit, according to Cox Automotive.
"On behalf of Cox Automotive and in partnership with NAMAD, I am honored to recognize Wadette for her phenomenal achievements in automotive," Ashe said in a news release. "Wadette is aspiring to be a franchise dealership owner-operator, and with her enthusiasm and passion for the automotive industry, I am confident that she will achieve that goal."
Prior to Martin Kia, one of Bradford's significant career achievements was building an enterprising partnership with business leaders around Lexus of Huntsville, an Alabama dealership where she began her career.
Under the leadership of her first mentor, Ellenae Fairhurst, Bradford established a client relationship to secure a multimillion-dollar contract which resulted in record pre-owned gross profit and unit sales, according to Cox.
"I am honored to be the first woman to receive this prestigious award," said Bradford. "My role model, Mrs. Ellenae Fairhurst, a Lexus dealer in Alabama, gave me the foundation for my success with my first management job, for which I will be eternally grateful. Ms. Amber Martin's keen business acumen to recognize talent afforded me the opportunity to sharpen my skills as general manager with the Martin Management Group. As we continue to surge forward growing the business, claiming new market share, increasing our support of the community and our profitability, my hope is to inspire other women to join the automotive industry."
Bradford was chosen for the Rising Star Award based on nomination criteria such as being an NAMAD member under the age of 40 showing proven leadership qualities in the automotive industry.
She is a member of the Kentucky Auto Dealers Association, the American International Automobile Dealers Association Rising Dealers Network and NAMAD NextGen. In Frankfort, Ky., she participates in the Kentucky Auto Dealers Association's Lobby Day which aims to educate legislature about issues that affect consumers, dealers and their employees.
Bradford also lobbies in Washington, D.C., on Capitol Hill with the American International Automobile Dealers Association.
Additionally, in her community, Bradford is a member of the Bowling Green Chamber of Commerce Young Professionals and United Way.
In 2010, Bradford graduated from the National Automobile Dealers Association Academy at the top of her class.
She holds a bachelor's degree from Alabama A&M University and a master's degree from the University of Alabama in Huntsville.
In Bradford's honor, Cox Automotive is donating $5,000 to one of its national diversity partners chosen by her.
She chose the National Urban League, a non-profit organization with a mission of empowering African-Americans through economic self-reliance, parity, power and civil rights.