CPO vehicle sales down 4% in April, but remain ahead year-to-date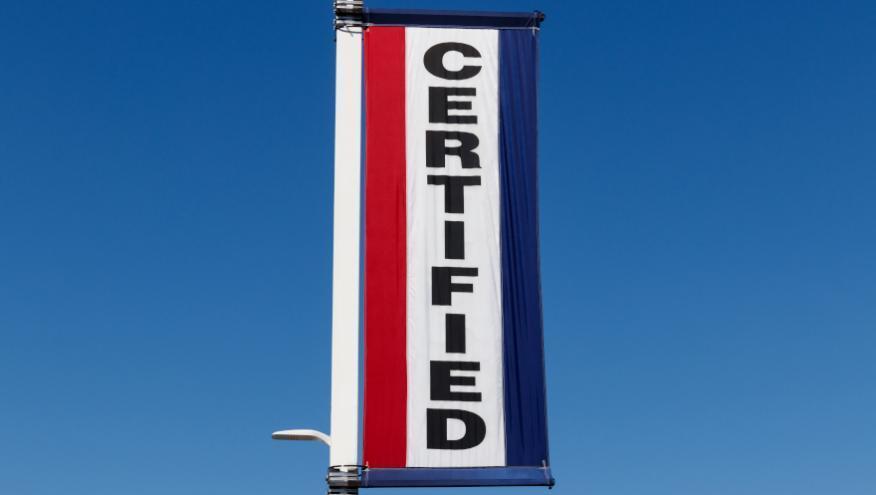 For certified pre-owned vehicle sales in April, it wasn't all good news and it wasn't all bad.
According to a Cox Automotive analysis of Motor Intelligence data, there were 214,684 CPO sales last month. That was down 4.2% year-over-year and 6% softer than March, but year-to-date sales through April are beating year-ago figures by 6%, Cox said in a Data Point report.
"April CPO sales took it on the chin compared to March, but the pace was healthier than either January or February," said Chris Frey, Cox Automotive's senior manager of economic and industry insights, in the report.
"The current year-to-date sales pace of 213,000 is about 7,500 better than last year, but it's also down by 21,000 from the pre-pandemic monthly average," he said.
Certified sales in April were also comparatively softer than overall used-car sales at dealerships, which Cox designates as retail used-car sales.
Those came in at an estimated 1.6 million units, a 1.2% year-over-year decline compared to the 4.2% drop for CPO.
In the report, Frey said it is likely that recessionary concerns and higher interest rates contributed to slower CPO sales in April.
Another impact to CPO sales has been softer off-lease volumes, Cox Automotive senior director of economic and industry insights Jeremy Robb said in a video report Friday. Though off-lease numbers are currently beating 2022 figures, they are  77% softer than pre-COVID figures.
"And that supply shock will continue," Robb said.
Three years is the typical time frame that a vehicle is in a lease. And three years ago was the early and deep stages of COVID, meaning the off-lease dearth is likely to stick around, Robb explained.
In response, many automakers have expanded the range of year and mileage eligibility in their respective CPO programs.
That has shown some early signs of paying off, but the jury is still out.
"We still think the strategy shift mentioned last month will pay off, with older units entering the mix, but after April's sales decline from March, it looks to be a bit longer before we see sustained sales improvement from the larger pool of CPO-eligible units," Frey said in the Data Point report.
Through the middle of May, overall retail used-car sales are down year-over-year after ending April on a high note, Robb said in Friday's video report.
However, he emphasized that, "there are some signs of softness out there, but we don't want anyone to think the sky is falling."
Robb also pointed out that weekly rolling 30-day used retail sales have been softer than year-ago levels since the end of February, but that decline began to slow in mid-May, narrowing from about 5% to 3%.