Craig Zinn Automotive Group creates animal-assisted therapy endowment at Joe DiMaggio Children's Hospital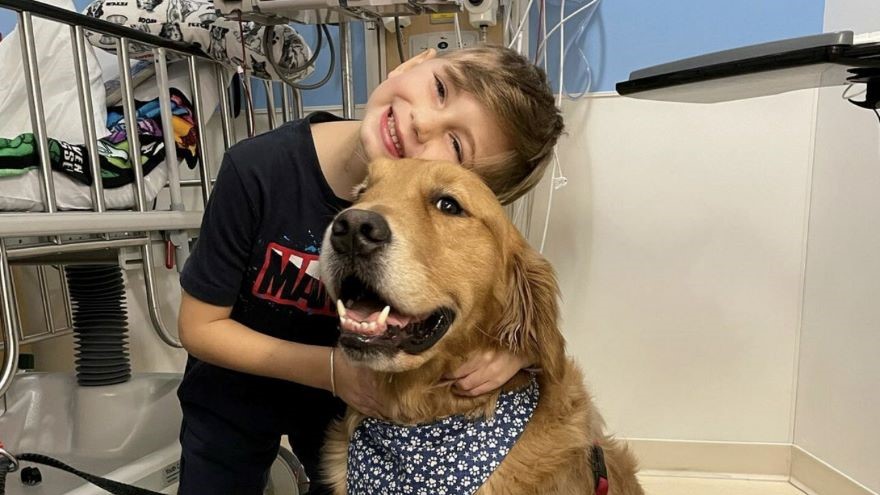 Craig Zinn, president and CEO of Craig Zinn Automotive Group, has initiated an animal-assisted therapy endowment at Joe DiMaggio Children's Hospital.
CZAG will fund the initial needs of the program while building the endowment of $500,000 to provide income from interest and fund the program in perpetuity.
The company said after seeing how valuable and joy-filled the hospital's animal-assisted therapy program is for many young patients, Zinn wanted to ensure the program has permanent funding.
Animal-assisted therapy has been shown to improve mood, reduce stress and anxiety, and provide a sense of comfort and companionship in patients, including children.
The endowment provides critical funding to purchase an additional therapy dog for Joe DiMaggio Children's Hospital, as well as supplemental costs associated with having an additional handler on staff at the hospital.
"We couldn't be happier to deepen our partnership with Joe DiMaggio Children's Hospital through our animal-assisted therapy endowment," Zinn said in a news release. "For more than four decades, we have made philanthropy a priority across all of our dealerships. Our success comes through our deep-rooted partnerships and giving back to the community.
"We would like to thank Joe DiMaggio Children's Hospital for doing extraordinary, life-changing work in the community, and we look forward to seeing our partnership grow."
Joe DiMaggio Children's Hospital CEO Caitlin Stella called the endowment a "pawfect" gift.
"We are so grateful to Craig Zinn and the entire team at CZAG for their unwavering support of our children, families and our team," she said. "Our therapy dogs are an integral part of our care team, offering love, encouragement and a sense of calm that only they can offer.
"They help create a fun and child-friendly healing environment that motivates and encourages patients to reach their goals. We cannot do what we do without support from donors like CZAG and the Zinn family."
CZAG's initiatives include other year-round opportunities to impact the lives of the young patients and their families staying at the hospital.
CZAG is also the proud donor of the Joe DiMaggio Children's Hospital Emergency Room's "Short Stop", an area dedicated to quick care and designed to treat minor emergencies and allow for quick discharges.
In 2021, the area was renamed Craig Zinn Automotive Group Short Stop to honor CZAG's continued commitment to the hospital and its programs.