Dealer charity roundup: Actions by Rick Case Automotive & Vic Vaughan Toyota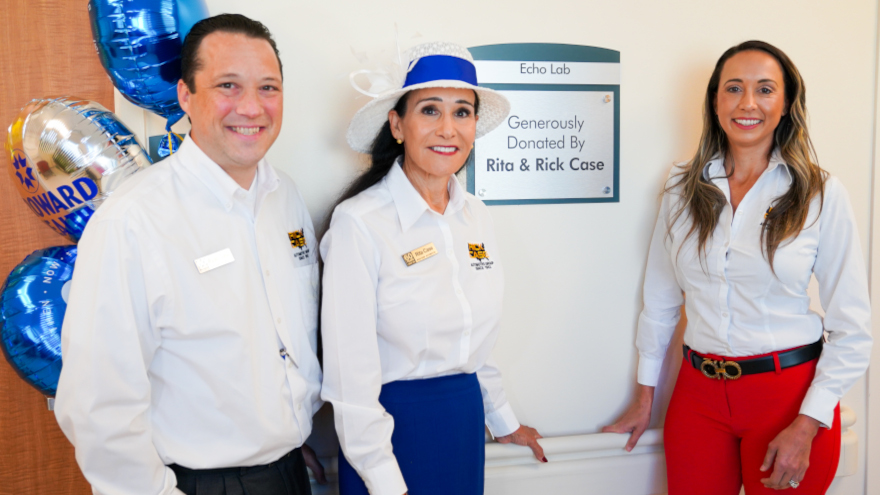 This roundup of dealer philanthropy activities involves healthcare in Florida and education in Texas.
Beginning in the Sunshine State, leaders from Broward Health and the Broward Health Foundation joined Rita Case on Feb. 15 to celebrate the naming of the Rita & Rick Case Echo Lab at Broward Health Medical Center. The lab features the latest echocardiography technology that creates images of the heart, blood vessels and blood flow levels that doctors use to assess heart function.
Naming rights for the lab were secured following a $50,000 donation by Case at the 2022 Broward Health Ball, which raised almost $1 million for cardiac care and other services across Broward Health.
"We are honored to be able to support Broward Health Medical Center in continuing to provide custom cardiac care for our community," said Rita Case, who is CEO of Rick Case Automotive. "The doctors, nurses and caregivers at Broward Health are heroes, and we are humbled to support their efforts in saving lives each and every day."
Two top executives from Broward Health expressed their gratitude.
"We are very appreciative of Rita's donation and her commitment to Broward Health," said Shane Strum, president and CEO of Broward Health. "Donations like Rita's enable Broward Health to invest in high-quality healthcare, technology and programming, ultimately providing exceptional cardiac care to our community."
"We thank Rita for her generous gift, because a gift today changes a life tomorrow," Broward Health foundation president Scott Ford added. "We hope others will join her in making gifts that help us continue to shape the present and positively impact the future of healthcare in our community."
Down in Texas, Vic Vaughan Toyota of Boerne (VVTOB) celebrated Boerne Independent School District (BISD) teachers with $16,000 in gifts during the Boerne Education Foundation's Rock On gala.
On March 4, sixth grade math teacher Rachel Bunker was named the 2023 BISD Teacher of the Year, receiving $10,000 from the dealership group along with the accolade.
Shawn Vaughan, president of Vaughan Automotive, also gave a $1,500 check to the runner up, Brook Taylor, a sixth grade social studies teacher. All other honorees received $500 cash from Vaughan, too.
"It is such a privilege to support the Boerne ISD and Boerne Education Foundation year after year by recognizing the hardworking teachers who guide students to thriving futures," said Shawn Vaughan, a supporter of the Boerne Independent School District and the Boerne Education Foundation for nine years with more than $150,000 in donations.
"Enhancing the quality of education in Boerne is what will continue to make this community so great, and we look forward to continuing to grow this program in the years to come," he went on to say.