Dealer eProcess hires VP of growth strategy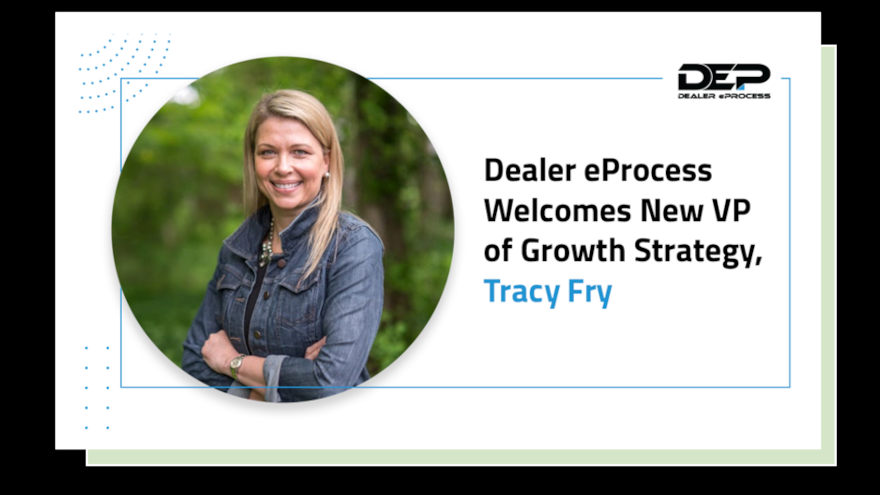 On Friday, Dealer eProcess appointed a new vice president of growth strategy with a seasoned professional who has made a significant impact at companies like Roadster, CDK Global and Edmunds.
Taking on the position for the provider automotive websites and innovative marketing solutions is Tracy Fry.
The company said Fry will play a pivotal role in guiding Dealer eProcess' vision and driving growth initiatives moving forward, not only for the company's digital retailing offering, but also for CreditMiner and eAuto Appraise.
Founder and CEO Joe Gillespie said Fry's extensive knowledge of the automotive landscape and key players, coupled with her diverse skill set, will bring fresh perspectives and innovative ideas to Dealer eProcess' current sales and marketing efforts, setting the stage for an exciting phase of growth and success.
"We are very excited for what the future holds for DEP, especially in the growth of our digital retailing platform," Gillespie said. "As a pioneer in automotive technology, Dealer eProcess has always been at the forefront of industry advancements.
"With the latest innovations to the platform and messaging, the company is confident that Tracy's inclusion will create a tremendous impact on our position in this highly competitive field," Gillespie added.
Fry possesses more than 15 years of professional experience, with 13 specifically focused on the automotive industry.
"As someone who has long admired Dealer eProcess for their innovative approach to addressing dealers' challenges, I am thrilled to be a part of the company," Fry said. "I recognize the value in Dealer eProcess' award-winning technology and their commitment to delivering exceptional customer care."