Dealer giving: Chicago franchised stores raise $100K for USO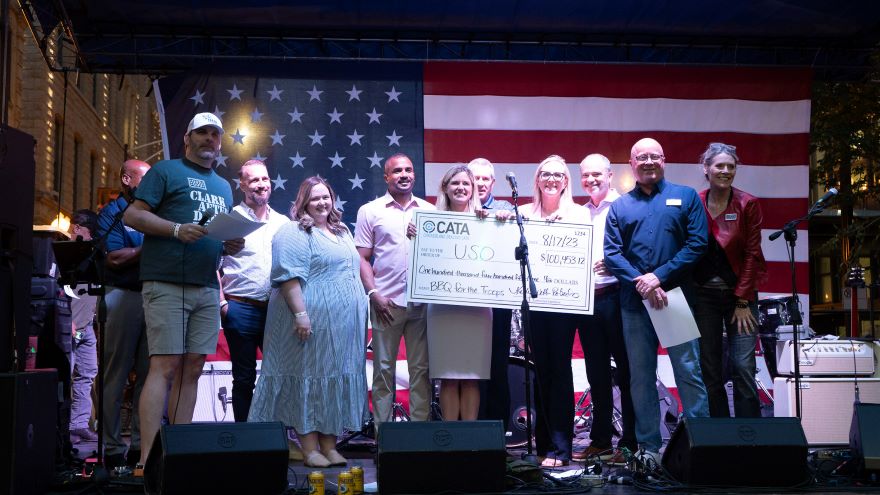 The Chicago area's franchised dealers association cooked up a big donation to the USO to provide assistance to local military members and their families.
The Chicago Automobile Trade Association's 10th annual USO Barbecue for the Troops, a series of barbecue events on July 15, brought in $100,453. The events, hosted by more than 80 dealerships, included patriotic ceremonies, classic car shows, live music, games for kids of all ages and, of course, barbecue.
CATA chairwoman Kelly Webb Roberts said the event is "the perfect example of what Chicagoland new-car dealers can do when communities come together and rally around this cause."
She said after 10 years of hosting USO Barbecue for the Troops, the association is looking forward to "continuing our support of the USO and our local military and their families for the next decade."
CATA said the program has raised a total of more than $1.1 million over its 10 years, supporting USO initiatives with nearly 700 fundraisers, providing support to some 300,000 service members and their families.
"We are so grateful for the support we receive from our partners at the Chicago Automobile Trade Association and the local new-car dealerships," USO Illinois executive director Christopher Schmidt said. "This grassroots fundraiser has now raised more than $1.1 million in crucial funds that support our service members and their families."
Swickard Auto Group pledges donation to help Maui pets and their families
Swickard Auto Group has made a pledge to people and pets affected by the recent wildfires on the Hawaiian island of Maui.
The owner of more than 40 dealerships nationwide said it will donate $100 for every car it sells from Aug. 15-31 to the Maui Humane Society to provide assistance to "the people of Lahaina, Maui, and their cherished pets during a critical period."
The group said the donation aligns with its stated goal to rescue 1,000 dogs in 2023.
"We at Swickard Auto Group feel a strong sense of responsibility to contribute to the well-being of communities that are facing displacement," CEO Jeff Swickard said. "Our donations to the Maui Humane Society are not just about financial support, but about standing in solidarity with the people of Lahaina during this significant time of need.
"By donating $100 for every car sold, we aim to provide tangible assistance to the Maui Humane Society in their tireless efforts to both reunite and keep families with their beloved pets while offering essential resources to those affected."
Swickard Auto Group said its dedication to animal rescue continues to make an impact on communities in Washington, Alaska, California, Texas and Oregon, in addition to its pledge to Hawaii.