Dealer group news: Holman opens first Audi Sales Studio, Albrecht Auto Group adds Massachusetts dealership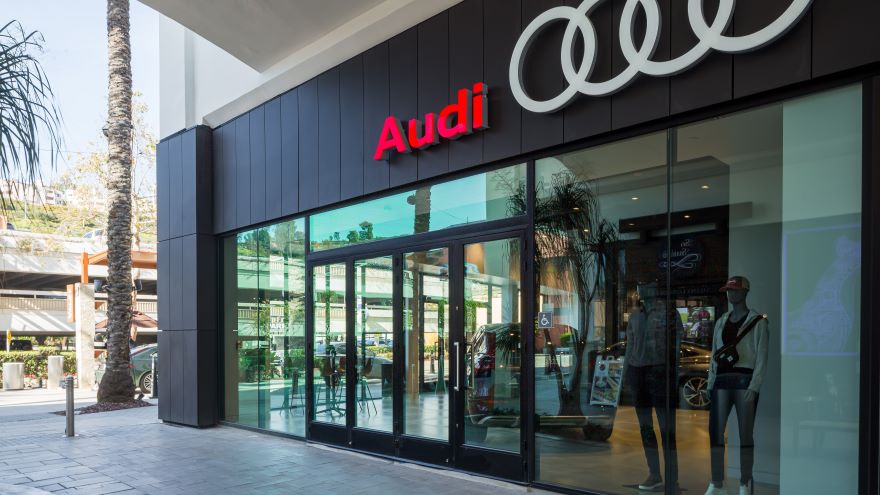 Two weeks after announcing the opening of its Porsche Studio in San Diego, Holman is bringing a similar "premium automotive retail experience" to an Audi store next door.
The dealership group, which owns 40 franchises nationwide, has opened the Audi Sales Studio in the upscale, open-air Fashion Valley mall — right next to the mall's Porsche Studio.
In a news release, Holman said the first Audi sales studio of its kind in the U.S. has been "thoughtfully designed to enhance the customer journey and deliver the exceptional experience that has long been a hallmark of the Holman family of dealerships."
Holman president of retail automotive Gene Welsh said the studio is evidence that the 40-franchise dealer group is "evolving with the needs of our customers."
"We're invested in bringing an all-new customer-centric car-buying experience to our dealership locations across the country to enable guests to engage when they want and on their own terms," he said.
The 2,800-square-foot space features lounge seating and interactive digital touchpoints, allowing guests to explore the Audi ecosystem. The company said the Audi Sales Studio introduces "a unique buying process" in which guests work with one Holman representative — from shopping through delivery — for an efficient and personal experience.
In addition, Holman said, hospitality-trained Audi brand specialists can guide customers with product expertise around sales, service, accessories and the purchase of exclusive brand merchandise – and can seamlessly pick up the sales process for customers who began online.
Holman senior vice president of dealership operations George Athan said the studio "sets an impressive standard for modern automotive retailing" by providing "a thoughtfully curated buying experience in a sophisticated setting."
The Audi Sales Studio offers onsite test drives and an interactive design studio that allows shoppers to customize their Audi.
Steve Martini, Western Region vice president for Audi of America, said, "We're thrilled for Holman to bring this new, elevated Audi customer experience to life."
Albrecht Auto Group expands its reach in New England
The Albrecht Auto Group has acquired Westboro Jeep in Westboro, Mass., which will now operate as Albrecht Chrysler Dodge Jeep Ram of Westboro.
The Albrecht Auto Group was founded by George Albrecht Sr. in 1977 and has since grown to seven stores and three body shops throughout New England under the leadership of George Albrecht Jr., who assumed the roles of CEO and president in 2012.
"This acquisition represents our unwavering commitment to delivering the best automotive experience to our valued customers," George Albrecht Jr. said. "We look forward to leveraging our expertise and passion to elevate Albrecht Chrysler Dodge Jeep Ram of Westboro to new heights."