Dealer group roundup: Wisconsin Ford store changes hands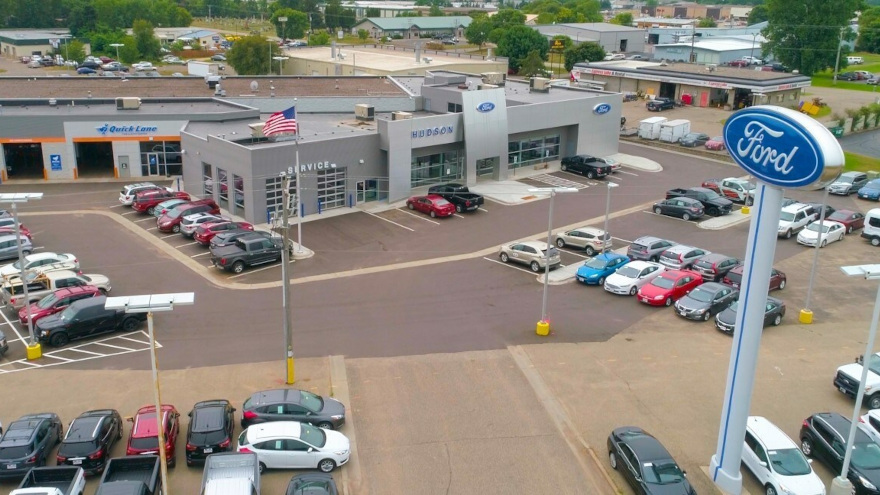 This dealer group news roundup includes a Blue Oval franchise store acquisition along with a philanthropic move during one of the recent college football bowl games.
Carousel Motor Group, which includes dealerships serving the Twin Cities region, announced on Friday that it has acquired Hudson Ford, which according to a news release is the No. 1-selling Ford dealership in Wisconsin for the past five years.
Meanwhile, the Ed Morse Automotive Group used its position as the official automotive partner of the Lockheed Martin Armed Forces Bowl played in December to give away a new truck to a member of the military who received a Purple Heart.
The acquisition of the Hudson Ford dealership, located at 2020 Crest View Drive in Hudson, Wisc., near Interstate 94 and Carmichael Road, marks Carousel Motor Group's first Ford dealership in its portfolio as well as entry into the Wisconsin market.
Carousel now operates nine franchised dealerships, along with Carousel Online, a direct-to-consumer pre-owned automotive ecommerce site. Carousel also has franchises representing Porsche, Ferrari, Chrysler/Dodge/Jeep/Ram, Audi, BMW, and Chevrolet.
"We are not only privileged to represent the Ford brand, but to continue building on Hudson Ford's exceptional reputation in the community. This is a true testament to the highly talented team who have built such a great culture," Carousel Motor Group CEO and president Chase Hawkins said in the news release.
"This acquisition is a natural fit within our portfolio of reputable brands and reinforces our plan for continued strategic growth and value creation," Hawkins continued. "We truly appreciate Mark Swelland, CEO and president of Hudson Ford, his business partner Gary Embretson and Jonathan Nissly, COO and GM, for both their leadership in making this such a fantastic dealership and for entrusting us with its future."
Hudson Ford sells both new and pre-owned vehicles in a recently remodeled facility. The dealership also includes an Abra full-service collision center that is aluminum certified and an on-site detail center, servicing drivers throughout St. Croix County and eastern Minnesota.
"Carousel Motor Group mirrors the values of Hudson Ford. They really care about their employees and customers, and we are excited to have them guide this organization to the next level," Swelland said.
Purple Heart recipient gets new truck at the Armed Forces Bowl
At halftime of the Lockheed Martin Armed Forces Bowl last month, Teddy Morse, chairman and CEO of Ed Morse Automotive Group, teamed up with Santa Claus to randomly pick a name out of a hat of almost 100 Purple Heart recipients.
According to another news release, the lucky winner was Gil Brown of Northlake, Texas. He was handed the keys to a 2022 RAM 1500 Rebel in Hydro Blue. The MSRP for this new truck was $65,905.
"I couldn't believe they called out my name and was in total shock. It was like winning the lottery and certainly didn't expect this. I look forward to selling my old truck, getting rid of the monthly payments and knowing that this truck will likely be my last," Brown said. "I am so appreciative of Teddy Morse and his Freedom dealership team for their unwavering support for veterans."
Brown earned the Purple Heart when he was wounded on Jan. 9, 1969 in Vietnam. Brown was an infantryman serving in the Ninth Infantry Division in the Mekong Delta. During a night operation in the Plain of Reeds on the Cambodian border, Brown's patrol air cushion vehicle hit a mine and was decimated. He spent six weeks in the hospital and then rejoined his unit.
Brown has given back by serving as a mentor for the Veterans Treatment Court Program in Denton County.
"From its inception over 75 years ago, our company has proudly supported veteran and military organizations. Not only was it exciting to watch Air Force win the Armed Forces Bowl, but a true honor to meet so many inspiring veterans," Morse said. "We were so proud to hand the new truck keys to Gil, a true hero and deserving of our admiration."
The was held in December at the Amon G. Carter Stadium in Fort Worth, Texas and aired on ESPN. It was also one of the coldest bowl games ever with a wind chill of minus-1 degree.