Dealer M&A notes: Acquisitions involving Toyota & Harley Davidson stores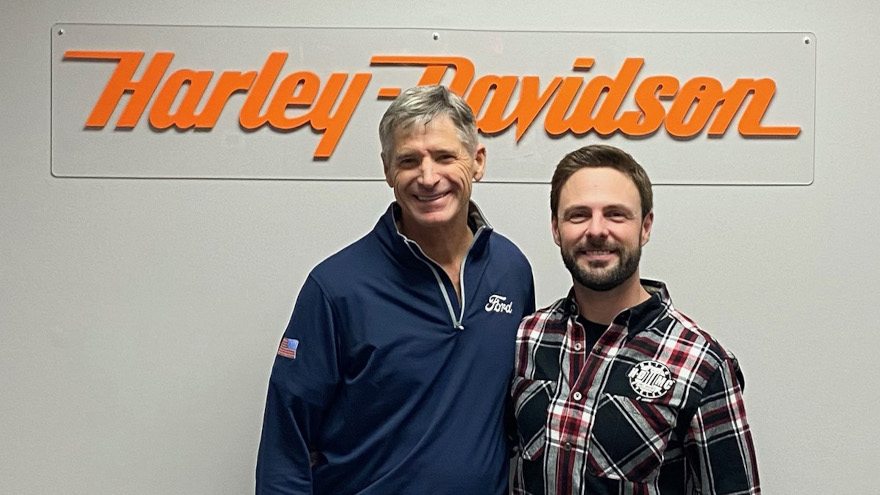 The dealerships changing hands this week involved one that retails units on four wheels and another that specializes in deliveries for units on two wheels.
The Dave Cantin Group (DCG) closed the transaction of Carson Toyota — one of the largest Toyota dealerships in Carson, Calif. — to Fletcher Jones Automotive Group.
And Performance Brokerage Services announced the sale of Patriot Harley-Davidson of Fairfax, Va., from Sheehy Auto Stores to Paul Veracka.
According to a news release, the deal in the Golden State continues DCG's 2023 merger and acquisition momentum, which began the year already in motion with 24 acquisitions totaling 65 franchises in the works (including several large auto groups).
"The transaction is a strong indicator of the competitive opportunities, and high dealership valuations we anticipate seeing throughout 2023," said George Pero, DCG Acquisitions' national vice president of sales, who represented both buyer and seller in the transaction.
Under the new ownership, the dealership will be known as Fletcher Jones Toyota of Carson. Carson Toyota has been in operations for 49 years.
"As a third-generation operator and COO of our management team, I am excited to welcome the entire Fletcher Jones Toyota of Carson staff to the Fletcher Jones Automotive Group family," said Fletcher Jones III, chief operating officer of Fletcher Jones Automotive Group.
"We will continue to offer the same great service their customers have enjoyed for many years plus offer an entire new suite of benefits as part of being a member of the Fletcher Jones Automotive Group of stores," Jones said.
This acquisition will be the 16th franchised dealership for the Fletcher Jones Automotive Group spread across California, Nevada, Illinois, and Hawaii.
"We look forward to passing the baton to the Fletcher Jones organization to continue our legacy with Carson Toyota," said Dan Pennington, co-owner of Carson Toyota. "We are confident they will excel with customers and employees as they bring the Carson Toyota family under their wing."
"Given our nearly 50 years of business, it was important to us to find the 'right' buyer," Pennington continued. "George and DCG Acquisitions did an amazing job throughout this transaction. He worked closely with us until the perfect match was identified."
Fletcher Jones Sr. launched 77 years ago with his first store in downtown Los Angeles.
"This is our first closed transaction with George Pero and DCG Acquisitions. George was involved in virtually every aspect of the process ensuring a timely close that worked for all parties on the transaction. I highly recommend George and the DCG team to anyone currently considering a buy/sell today," Jones III said.
Harley-Davidson store deal
On the other side of the country, Patriot Harley-Davidson has serviced the Fairfax area for more than 20 years. Performance Brokerage Services highlighted the dealership is well-known within the community for their Ride of the Patriots event, a group motorcycle ride to the nation's capital.
According to another news release, the dealership will remain at its current location at 9739 Fairfax Boulevard in Fairfax.
Vince Sheehy currently serves as president of Sheehy Auto Stores, which operates more than 29 dealerships from northern Maryland to Virginia.
"Seven years ago, I worked with George Chaconas of Performance Brokerage Services when I acquired Patriot Harley-Davidson," Sheehy said. "After careful consideration, I decided along with my management team that it was time to divest this asset and focus on our automotive group. It only made sense to engage industry experts George Chaconas and his partner, Courtney Bernhard, to exclusively represent us in the eventual sale of Patriot Harley-Davidson to Paul Veracka.
"I would like to thank George and Courtney for their professionalism, tenacity, perseverance, and industry knowledge to get this transaction across the finish line. l wish Paul Veracka good luck and immense success," Sheehy continued.
Paul Veracka is the owner of PVM Enterprises, a large Harley-Davidson dealership group on the East Coast, currently operating more than 10 dealerships. stated,
"After acquiring Old Glory Harley-Davidson of Laurel, Md. from George Chaconas and Courtney Bernhard of Performance Brokerage Services, we were looking to expand our market in and around the Washington, D.C., metropolitan area. George and Courtney introduced us to Patriot Harley-Davidson which was for sale via Sheehy Auto Stores," Veracka said.
"The addition of this location to our group made strategic sense for the opportunity to service our clients on both sides of Washington, D.C., and allows us to continue Patriot Harley-Davidson's famous Ride of the Patriots to the nation's capital. I want to thank George and Courtney for their help to get this deal done and look forward to continued growth in 2023," Veracka went on to say.
Chaconas was the exclusive agent for this transaction and is the head of the National Harley-Davidson and Powersports Division for Performance Brokerage Services.
"We have had the pleasure of working with the Veracka family numerous times over the years." Chaconas said. "We recently sold Paul's father, Dave Veracka, Barney's Motorcycle and Marine, comprised of three dealerships in Florida. We also represented Paul and his brother Michael with their acquisition of BMC Boats in Florida. We are very grateful and proud to announce another transaction with Paul Veracka and his acquisition of Patriot Harley-Davidson in Northern Virginia. This strategic acquisition complements Veracka's dealership, Old Glory Harley-Davidson in Maryland, which we also sold to Paul in 2020.
"It was a pleasure to work with Vince Sheehy and Paul Veracka on another successful buy-sell transaction, and I thank them for the opportunity to be of service. I wish all parties great success and I look forward to helping the Verackas with their continued expansion," Chaconas went on to say.